Here comes a sneak peek in the form of a trailer to Kyle Patrick Alvarez's next endeavor. The Stanford Prison Experiment is a buzzy drama with a promising cast of rising stars, and all based on actual events.
In the summer of 1971 Dr. Philip Zimbardo launched a study on the psychology of imprisonment.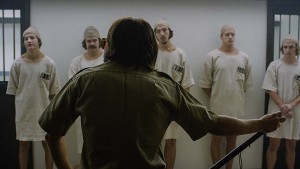 Twenty-four male undergraduates are randomly assigned to be either a guard or a prisoner. Set in a simulated jail, the project unfolds. The participants rapidly embody their roles—the guards become power-hungry and sadistic, while the prisoners, subject to degradation, strategize as underdogs. It soon becomes clear that, as Zimbardo and team monitor the escalation of action through surveillance cameras, they are not fully aware of how they, too, have become part of the experiment.
Based on the real-life research of Dr. Zimbardo (who was a consultant on the film), The Stanford Prison Experiment is a dramatic period piece that remains relevant over 40 years later. Along with an impressive cast, including Billy Crudup as Zimbardo, filmmaker Kyle Patrick Alvarez (C.O.G., 2013 Sundance Film Festival) aims to thrill.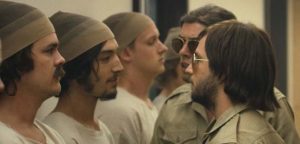 See the intense trailer with a collection of clips that turn up the tension, as the film (slated for summer release) explores the dark side of power and oppression.
The film features an excellent roster of young talent, including Ezra Miller, Tye Sheridan, Olivia Thirlby, Michael Angarano, Logan Miller, Thomas Mann, Keir Gilchrist, Johnny Simmons, Moises Arias, Jack Kilmer, Chris Sheffield, Ki Hong Lee, and James Frechville, to name a few.
The Stanford Prison Experiment opens in Theaters July 17th via IFC Films. Watch the trailer below.
[videos file="https://www.youtube.com/watch?v=7LviGTHud5w" width="560″ height="315″][/videos]