Earlier, today, EuropaCorp dropped the official trailer for the new, crime-thriller, film, DOGMAN starring Caleb Landry Jones. Directed by the internationally celebrated filmmaker, Luc Besson, it is developing a buzz amongst the fans of the popular action and Sci-Fi auteur, and for his clever casting of Caleb Landry Jones.
Below, watch the official film trailer for DOGMAN (2023) featuring Caleb Landry Jones
Perhaps known best for his role in 2017 films, THREE BILLBOARDS OUTSIDE EBBING, MISSOURI and GET OUT, the Texas-born Caleb Landry Jones (an actor and a musician) also won the Best Actor prize in 2021 at Cannes Film Festival for his work in Justin Kurzel's NITRAM.
The official synopsis of DOGMAN movie describes it as the incredible story of a child, bruised by life, who will find his salvation through the love of his dogs.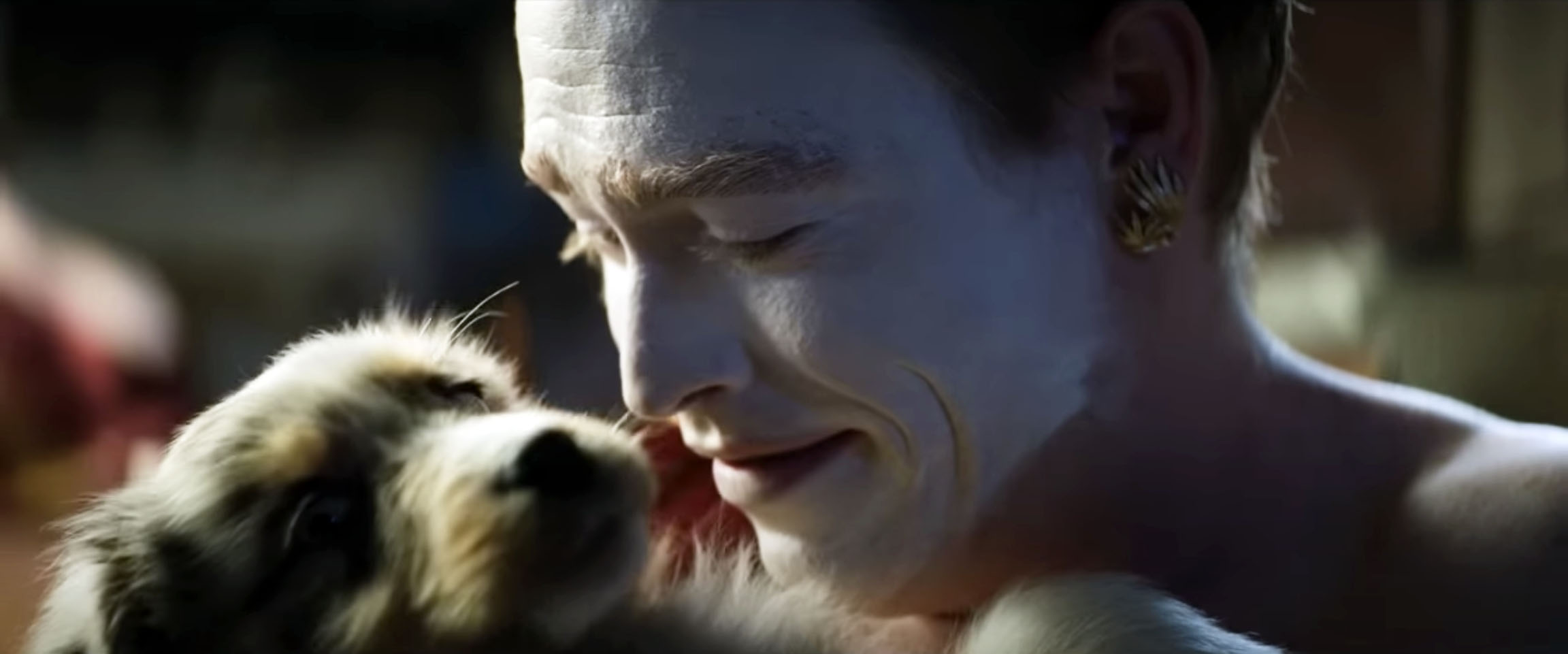 What's in the Trailer for DOGMAN movie, feat. Caleb Landry Jones?
Landry Jones stars as Douglas, a man whose tumultuous past has shaped him into an individual seeking solace and liberation from his haunting childhood memories. Abused by his violent father, Douglas seems to have found an unexpected refuge in a pack of dogs he cares for, most of which who have become loyal allies in a world filled with darkness and shady characters.
Douglas seems to have challenged societal norms and conventional thinking, in a drag or trans-friendly double-life or a disguise while unconditionally embracing his love for dogs.
"I've always liked disguises," he says in the newly released trailer for the film.
DOGMAN, also being called Luc Besson's "comeback" film offers a glimpse into Douglas' remarkable transformation as he fearlessly experiments with gender expression, unapologetically embracing his own unique identity, adding to the essence of a man who refuses to be defined by his past – that's our take so far at Brave New Hollywood.
We witness Douglas taking on menacing gangsters, fearlessly defending himself and his beloved companions, the dogs. Watch the trailer for DOGMAN movie below and see what you think.
While the film has been rumored to be a part of the competition at this year's Venice International Film festival, it will open in French cinemas on September 27, 2023.
Written and directed by Luc Besson, with music by longtime collaborator Eric Serra, there is no news about wider release dates, including the U.S.
Another DOGMAN – See our review for "Dogman," Matteo Garrone's 2018 Italian film with a similar theme and characters.
DOGMAN Movie (2023) Official Trailer feat. Caleb Landry Jones