The COVID-19 pandemic is bringing out the best and worst of us all. Unfortunately for celebrities, bad behavior – especially caught on social media – comes out unfiltered and without any guidance from their publicist.
First, we had Gal Gadot's kumbaya moment when she got her celeb-friends to sing John Lennon's "Imagine" from across their multi-million dollar homes for a moment that split the Twitterverse into feel-goods and WTF's. Even Conan O'Brien had to spoof that one!
The Covid-19 Boredom: The pandemic exposed poor judgment by some Hollywood celebrities.
Back in mid-March, before the general lock-down/quarantine, a bunch of celebrities sighed with relief, proudly announcing that they were tested negative for COVID-19. These celebs included: Drake, Kevin Durant, Kris Jenner and Celine Dion. Wait! They were tested negative? Aren't we currently in a severe shortage of tests that are supposed to be prioritized for health care workers? In a March 18th article, the NY Times sneered, "Need a Coronavirus Test? Being Rich and Famous May Help."
Mogul David Geffen announced he was self-isolating on his yacht in the Grenadines. Madonna posted from a bathtub full of rose petals that the virus was the "great equalizer." Chrissy Teigen tweeted how she was ordering her favorite soup flown in from Boston to LA. And poor Bette Midler, apparently enduring the pandemic without staff, tweeted, "I never knew my appliances as well as I'm starting to know them. I salute housekeepers around the globe."
Meanwhile, Lady Gaga's father actually started a GoFundMe to raise money for their NYC restaurant's laid off staff. Reaction to Gaga was swift, especially as she is a part-owner of the restaurant. Gaga, worth an estimated $275 million, couldn't pay her restaurant's staff? Subsequently, Gaga's father took down the GoFundMe and she announced a benefit concert to raise $35 million for the World Health Organization.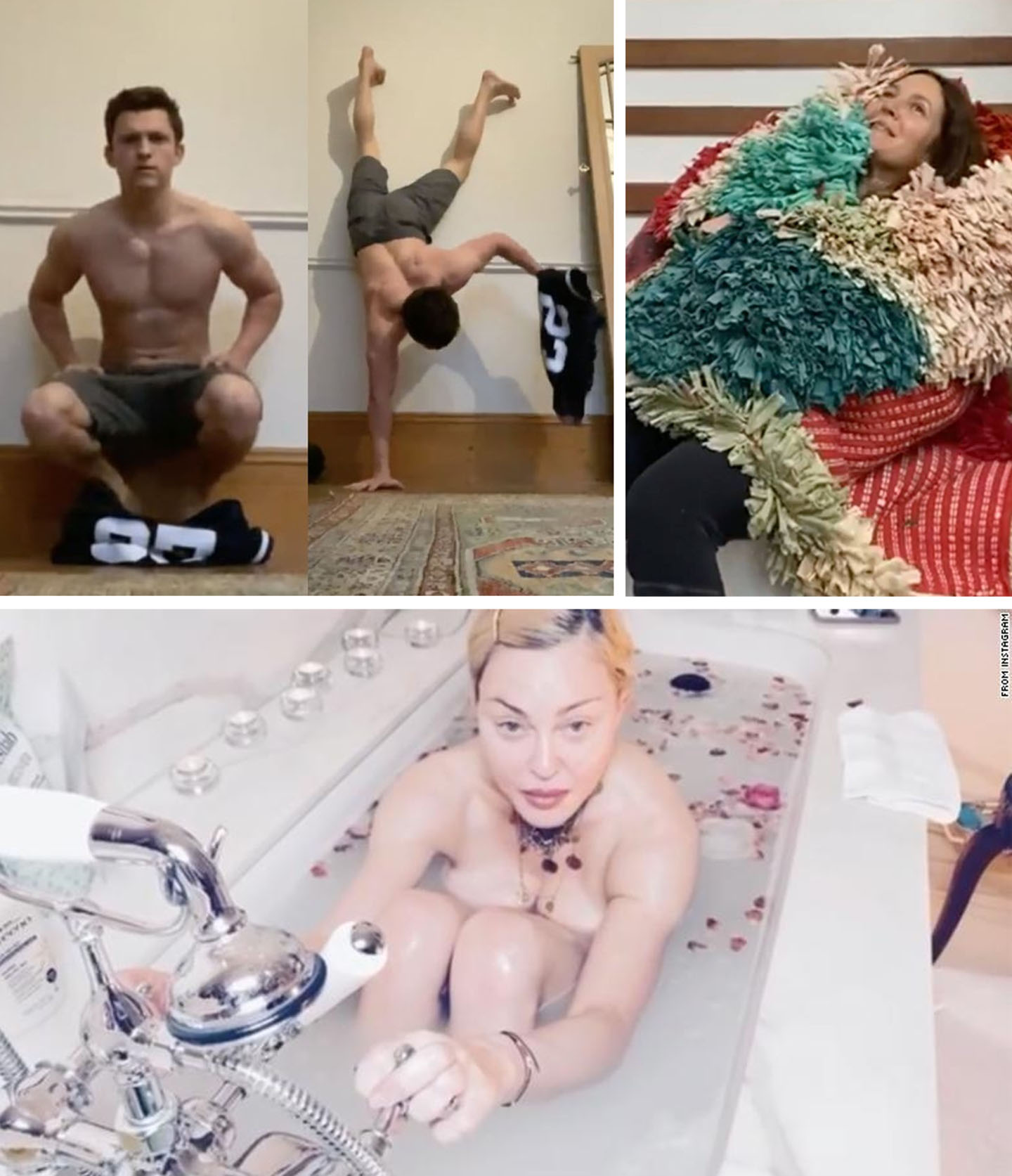 If you've ever seen Fail Army, you know what people do when they get bored: dumb, potentially dangerous challenges. All on camera. And it's the same with celebs. Tom Holland may have thrilled his fans with his shirtless TikTok challenge of putting on a t-shirt while doing a handstand. SPIDERMAN co-star Jake Gyllenhaal accepted the challenge while Ryan Reynolds shook his head in disbelief.
Stella McCartney literally threw herself down the stairs in her #StellaStaircase post on Instagram with the warning, "Don't try this at home. My staircase is keeping me occupied… what are you guys doing to fill the time?" Of course, Drew Barrymore bizarrely turned it into a challenge, bumping herself down the stairs and tagging Jimmy Fallon who has yet to try breaking his tailbone. McCartney and Barrymore have become the poster people for osteoporosis.
The reality is that a potential limb-breaking, skull-cracking challenge is going to send you to the hospital – a place where healthy people should not be! Not only because of the exposure to COVID-19 patients but also because of the added workload to health care professionals.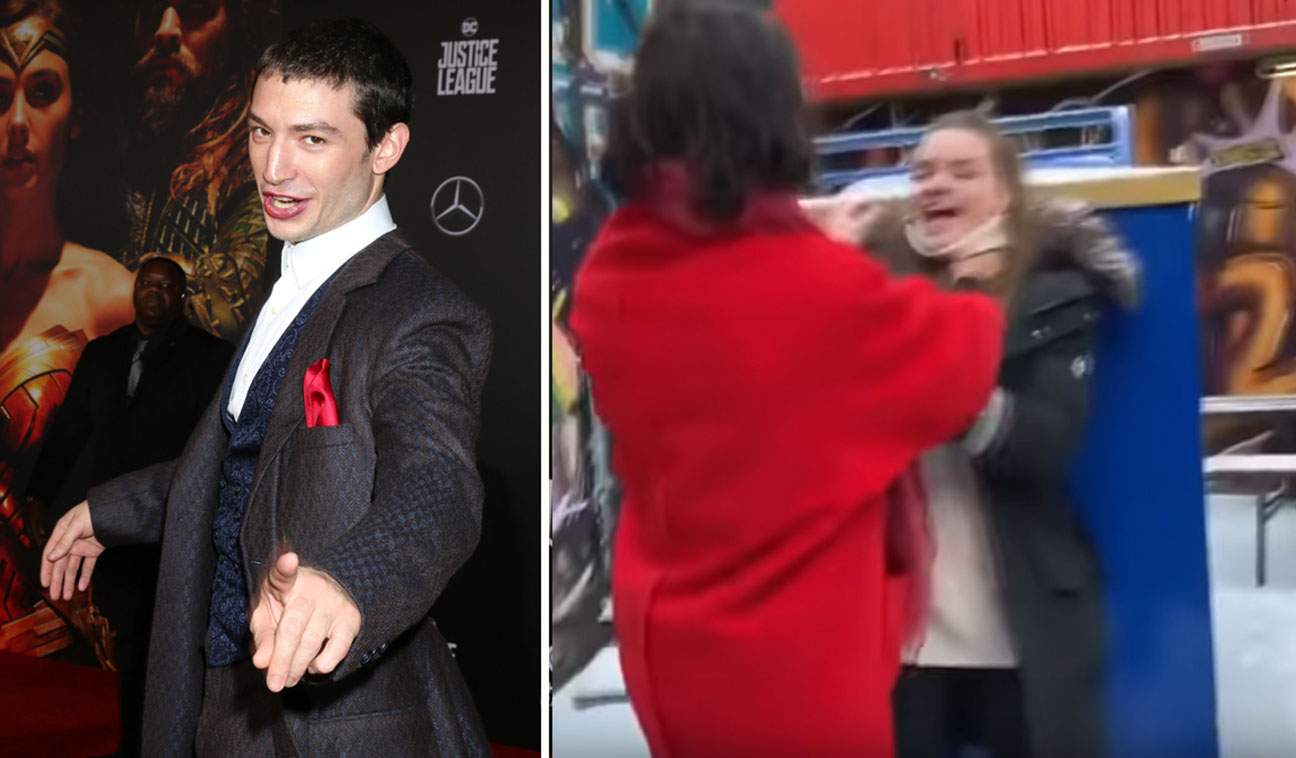 Ezra Miller, the former indie darling (PERKS OF BEING A WALLFLOWER) who surprised the DC Universe when he snagged the movie role of Flash in BATMAN V SUPERMAN, (shoving aside long-time fan favorite, Grant Gustin, of the Flash TV series) was caught on camera in Iceland choking a fan and body-slamming her to the ground. Watch the video of the incident here. While Miller fans hoped it was a joke, Variety reported that the incident was a real altercation at a bar in Iceland when Miller bristled at pushy fans. No social distancing there! And now some DC fans are wondering if Grant Gustin should replace Miller in any future movie role. Trending for the day was the hashtag #EzraMillerisOverParty.
Bad taste? Tone-deaf? Some celebs got 'em all.