Joining Sam Reid in AMC's highly anticipated INTERVIEW WITH THE VAMPIRE series is Brit actor Jacob Anderson who will play the co-lead, Louis, opposite Reid's Lestat.  GAME OF THRONE fans will remember Anderson as the sexy Grey Worm, the leader of the Unsullied army. Anderson reunites with his GoT director Alan Taylor who is directing the first two episodes of VAMPIRE.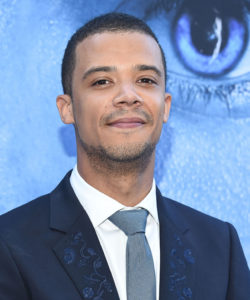 British actor Jacob Anderson is cast as Louis opposite Sam Reid's Lestat.
Anderson has been acting for years. He was in the ITV drama INJUSTICE, appeared in the series SKINS, and he was also in the series BROADCHURCH. Since GoT ended, the Bristol U.K. native has been keeping busy with an upcoming role in DOCTOR WHO. He is also a singer-songwriter aka Raleigh Ritchie who released his second album, ANDY, last year to positive reviews.
The upcoming TV series is based on author, Anne Rice's iconic book which introduced vampire Lestat to the fans, a role made famous later by Tom Cruise in the film version INTERVIEW WITH THE VAMPIRE (1994) directed by Neil Jordan. In the series, Jacob Anderson will play the role Brad Pitt carried in the 1994, Jordan movie. Rice's famous novel was originally a short story later growing into a novel.
Rolin Jones, the co-creator and showrunner of HBO's PERRY MASON is the creator, writer and showrunner of INTERVIEW WITH THE VAMPIRE series and will share executive producer title with Mark Johnson, Anne, and Christopher Rice.
THE AMC+ adaptation of the popular tale is set to premiere in 2022.