Posted on 19. Jan, 2012 by Ben Scuglia in Featured
He's one of Hollywood's best and brightest young actors, with a string of critically acclaimed roles under his belt, lots of celebrity buzz, as well as the mentorship of Hollywood's top filmmakers. Anthony Mackie was a scene-stealer in the Oscar-winning "The Hurt Locker" and now he's a "Man on a Ledge."
Technically, it is costar Sam Worthington whose ledge-jumping in the upcoming dramatic thriller conceals a number of plot twists and turns. The film is yet another example of Mackie's chameleon-like ability to play, well, almost anything.
He was born and raised in New Orleans and is a graduate of the Julliard School. He honed his acting skills onstage and continues to tread the boards between film roles.
Earlier this year, Huffington Post Black Voices tagged him "Hollywood's next black leading man." Mackie maintains his focus is on quality material—whether an Off-Broadway play or a potential blockbuster designed to sell lots of buckets of popcorn—and costars who can help him develop his gifts.
"The thing about it is that there are ways of doing those movies and those being quality movies," he says. "You just have to be smart about the people that you are working with. You don't have to have a sort of swagger about your disposition. I feel like I am a talented young man and if I don't feel that you are talented, then I don't want to work with you."
Mackie's onscreen magnetism was readily apparent in his onscreen debut opposite rapper-actor Eminem in "8 Mile." He also earned rave reviews for the acclaimed indie "Brother to Brother."
But 2004 was a big year, with roles in not one, but two Spike Lee joints: "She Hate Me" and the TV film "Sucker Free City." Lee's eye for talent is unimpeachable, but the opportunity didn't work out as Mackie expected.
"I happen to the only person who's had the lead in two Spike Lee movies nobody saw," he says. "It was a humbling experience, but Spike taught me more about how to fall on my face in this business than anybody else."
Nevertheless, Mackie's dual Spike Lee projects planted him smack-dab on Hollywood's radar. He appeared in another Oscar-winner: "Million Dollar Baby," directed by Clint Eastwood and followed up with scene-stealing supporting turns in a wide variety of films: "Half Nelson" with Ryan Gosling; the action-thriller "Eagle Eye" opposite Shia LeBeouf; the inspirational sports drama "We Are Marshall" with Kurt Russell; and Matt Damon's sci-fi thriller "The Adjustment Bureau."
Those are just a handful of the more than 30 films Mackie has filmed in 10 years. His forthcoming roles are equally varied. In addition to "Man on a Ledge," he's already wrapped juicy supporting roles in "Abraham Lincoln: Vampire Hunter" and "The Gangster Squad."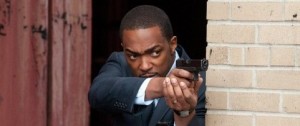 On a serious note, Mackie's mother passed away during the Hurricane Katrina disaster. He remains committed to the revival of the Gulf Coast. "New Orleans is an amazing city," he says. "It's a resilient city. There is a certain level of pride in New Orleans right now that I really haven't seen anywhere else in any other city in America. We realize what we have now and how close we were to losing it."
Mackie's "Ledge" costars include Elizabeth Banks, Edward Burns, Ed Harris, Genesis Rodriguez, William Sadler and Kyra Sedgwick. The film opens January 27 via Summit Entertainment.
TRIVIA: Mackie recently opened his own bar in Brooklyn, called NoBar. He did most of the designing and building himself.
CLICK HERE for the official site for  "Man On A Ledge"
Anthony Mackie on IMDB