Posted on 18. Jan, 2012 by Mark Daponte in Now U Know, Random Jabber
Check out this celebrity buzz: Lindsay Lohan is competing with Megan Fox to play Elizabeth Taylor in a TV movie for "Lifetime" about the star's life called "Liz and Dick," reports Deadline.  Because of Lindsay's Sapphic ways, this could mark the first time that Lindsay was associated with "Dick."  This also marks the greatest case of miscasting since Herman Cain auditioned to fill the role of President.
Yes, both Lindsay and Liz were childhood stars, but the similarity stops quicker than you can say "Freaky Friday."
Unfortunately, one can't watch Ms. Lohan without thinking of her (and her father's) televised trials and drug tribulations.  Now, if Hollywood would star her and her troubled dad Michael in "Jailed Father of the Bride," the box office could be boffo.
Also:
FACT:  Elizabeth Taylor was an intelligent humanitarian who actually could form a sentence–besides "I do" after she was asked, "Do you take this man to be your lawfully wedded husband–again?"
FACT: Lindsay Lohan is no humanitarian—or grammarian.  Check out her embarassing tribute to film director Robert Altman.  She described him as the "closest thing to my father and grandfather that I really do believe I've had in several years," then signed the message: "God Bless, peace and love always. Thank You, be adequite (sic)."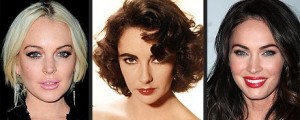 It's been rumored that she later sold the coke (sorry, prescription meds) she took before composing that letter for $10,000 a gram.
So enough with the miscasting!  What's next?  Betty White as Baby Jane Hudson and Angela Lansbury playing Blanche Hudson in a remake of "Whatever Happened to Baby Jane?" called, "REAL Mean Girls?"
CLICK HERE for Deadline's full story
CLICK HERE to read Lindsay's letter on late director Robert Altman
Robert Altman on IMDB