Timothée Chalamet, the star of DUNE, one of the biggest movie events in recent memory, has swiftly built a career of variety and quality ever since he garnered a boatload of awards and recognition for his star-making turn in the 2017 indie film, CALL ME BY YOUR NAME.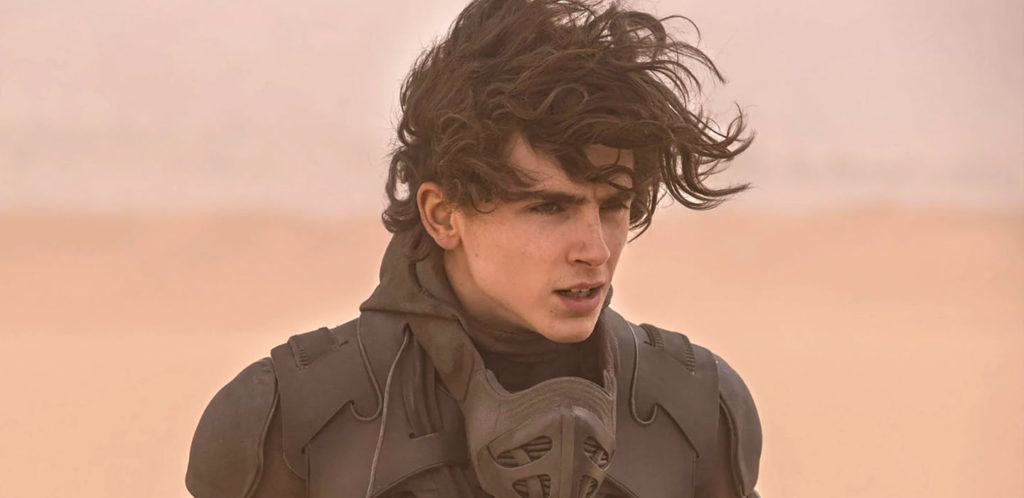 In that film, he starred as a sexually frustrated young man who falls in love with his father's graduate student, portrayed by Armie Hammer. The $3.5 million dollar indie could have been forgettable in lesser hands, but with Chalamet's coltish, playful and nuanced performance (Chalamet's teary ending scene is an instant classic), director Luca Guadagnino's deft touch, and a brilliant screenplay by veteran James Ivory, the film struck moviegoers as a beautiful, heartbreaking coming of age romance. It didn't hurt that Chalamet and Hammer's many nude scenes were more in line with European cinema immodesty. Chalamet was recognized for this film with nominations for an Oscar, a BAFTA, a Golden Globe, a Screen Actors Guild and a Critics' Choice Award – all for Best Actor.
While CALL ME BY YOUR NAME was making the film festival circuit, Chalamet was also noticed for his supporting role in LADY BIRD opposite Saoirse Ronan.
So what did we learn about Chalamet that fateful 2017 as he tirelessly worked the press junkets to promote the little film? He is a New Yorker with a French father, he is fluent in French, and for CALL ME BY YOUR NAME, he taught himself how to play guitar and piano.  It was that kind of old-school method, skill-acquiring dedication to acting that impressed critics and audiences. It also doesn't hurt that Chalamet is strikingly handsome, a Millennial James Dean, with a savvy sense of red carpet fashion.  Chalamet's good-natured appearances on talk shows around the world seemed graciously humble with sincere surprise at CALL ME BY YOUR NAME's reception. There hasn't been this kind of excitement for a young, baby-faced actor since Leonardo DiCaprio first appeared.
Timothée Chalamet (25) doesn't let stardom get to his head seeking films where he can serve in supporting or lead roles with top directors.
Here's a fascinating dimension to Chalamet's global fame. CALL ME BY YOUR NAME was banned in China, one of the world's largest film markets, because of gay content, and yet he has cultivated a huge Chinese fan following who have nicknamed him "Sweet Tea" (Tiánchá) which is the phonetic translation of Mandarin for "Timothee." How were all those Chinese fans watching CALL ME BY YOUR NAME?
Chalamet, 25, studied acting at the famous Fiorello LaGuardia High School of Music and the Performing Arts (better known as the high school from the movie and TV series, FAME). After a number of small roles in TV and on stage, he played Matthew McConaughey's son in 2014's INTERSTELLAR.  Chalamet has said in interviews that he was devastated that much of his screen time from INTERSTELLAR was cut.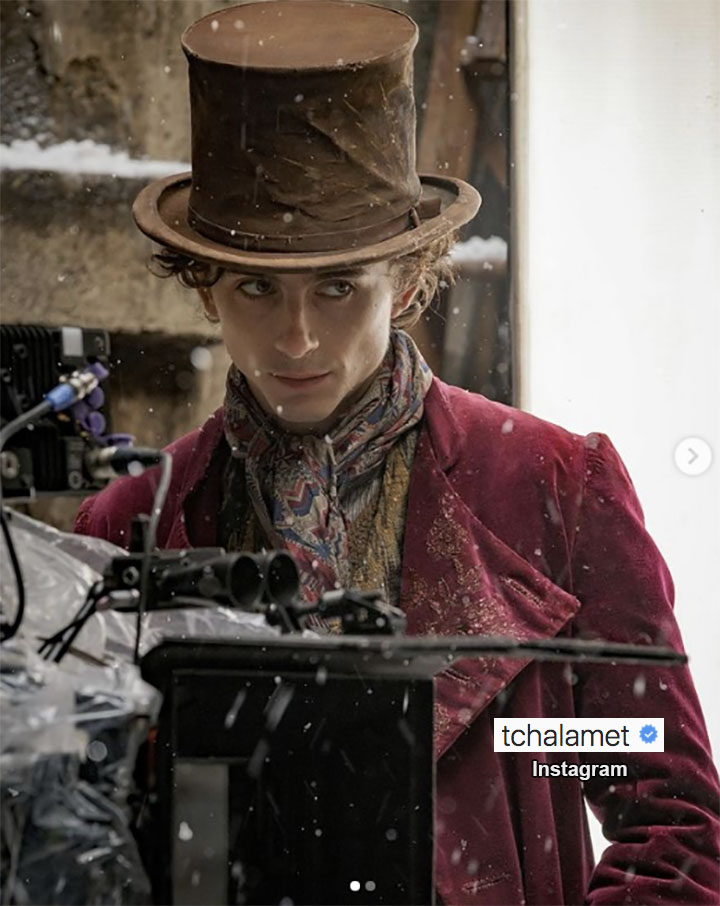 He has also skillfully skated away from any personal drama. Perhaps it's because he's a New Yorker, but Instagram is filled with shots of him having coffee, eating bagels and posing with fans. He has been connected with Lily-Rose Depp (daughter of Johnny) but it's not as if he's been much paparazzi fodder. And when controversy was engulfing Armie Hammer's career, Chalamet, who had praised Hammer on the CALL ME BY YOUR NAME press appearances as his mentor, diplomatically avoided talking about his co-star.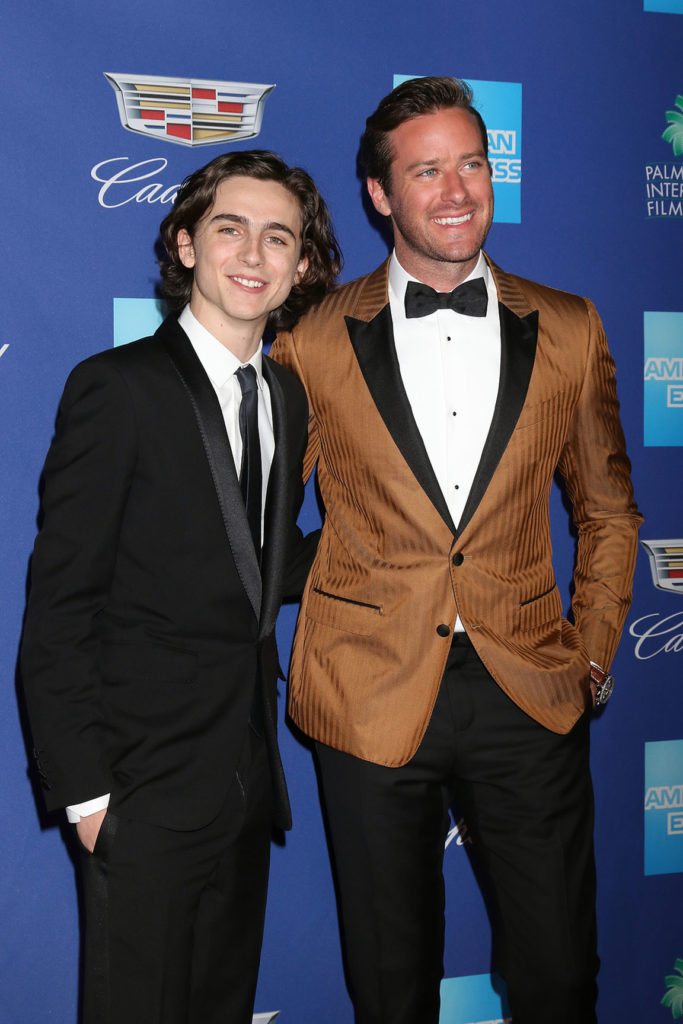 Once CALL ME BY YOUR NAME hit, Chalamet's next projects were generally well-received but clearly not worthy of his skills. He was in the forgettable Amazon teen drama HOT SUMMER NIGHTS and then another Amazon film BEAUTIFUL BOY opposite Steve Carrell which was more like an after-school special (drugs are bad!).  He then had a role in Woody Allen's little-seen romantic comedy, A RAINY DAY IN NEW YORK, but Chalamet donated his earnings to charities because of the allegations of sexual abuse against Allen.
Next, Chalamet played Henry V in the generally well-received Netflix period drama, THE KING. And in 2019, he reunited with LADY BIRD co-star Ronan and director Greta Gerwig in the holiday hit remake of LITTLE WOMEN, perhaps following in the career footsteps of Christian Bale who also starred as Laurie in the 1994 remake of LITTLE WOMEN.
With all of this critical praise, Chalamet has not yet been name-tested at the box office with his titles mostly being streamer releases. DUNE won't necessarily be his box office test either but it will expand his skill sets with a lot of physical acting and fighting (will an MCU franchise be in his future?) With such a large, ensemble cast and already rave advanced reviews, Chalamet won't be blamed if the movie underperforms at the box office. Industry analysts expect a chunk of box office for DUNE will end up going to HBO MAX where it will open simultaneously. True, the 1984 version of DUNE which bombed didn't help Kyle MacLachlan's career, but 2021's take has 37 years of special effects advances, an all-star cast, and the sci-fi maestro Denis Villeneuve (BLADE RUNNER 2049, THE ARRIVAL) at the helm.
At such a young age, Chalamet isn't letting stardom get to his head. He seems happy seeking out both lead and supporting roles, affording to be choosier, working with top-caliber co-stars and directors.  Next up, he joins a high-wattage cast of Jennifer Lawrence, Meryl Streep, Cate Blanchett and Leonardo DiCaprio in DON'T LOOK UP, a black comedy about astronomers trying to warn people of an approaching Earth-destroying comet.  And he reunites with his CALL ME BY YOUR NAME director Luca Guadagnino in a drama BONES AND ALL. Piquing many people's interest is Chalamet's next starring role as Willy Wonka in a prequel currently titled WONKA.  To be directed by Paul King (PADDINGTON), Chalamet will star with Olivia Colman in a story of how Willy Wonka met the Oompa Loompa's. Could a Johnny Depp style career be in Chalamet's future? Depp, DiCaprio, not bad careers of quality and length to follow.