This winter, you will either get to know Timothée (pronounced Timo-tay) Chalamet very well thanks to his highly anticipated indie drama, CALL ME BY YOUR NAME, or not.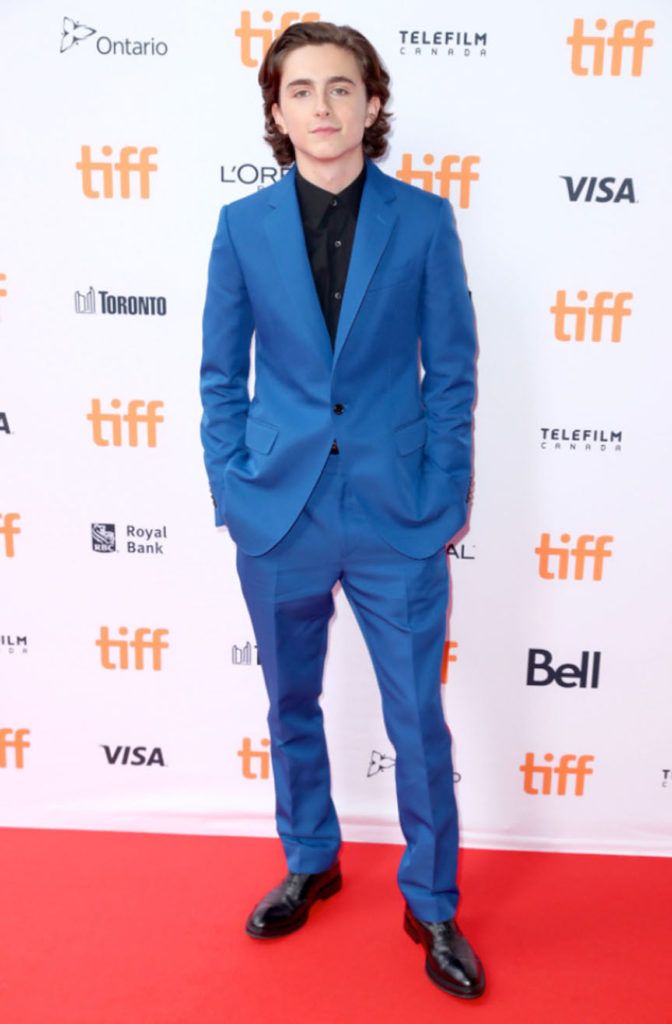 Independent film – even one distributed by Sony Classics – are not necessarily star-makers, but Chalamet will enjoy the growing credibility and recognition that honors a film that was unanimously praised throughout the film festival circuit.  From a career trajectory point of view, he's in the same position as Ezra Miller was when he was riding the wave of acclaim for his indie WE NEED TO TALK ABOUT KEVIN.
The striking and youthful 21 year old American actor had small roles in INTERSTELLAR and MEN, WOMEN and CHILDREN, but it will be CALL ME BY YOUR NAME where he demonstrates his acting chops opposite his gay love interest played by Armie Hammer. Variety raved, "Chalamet combines the intellectual precocity and hot-blooded animal energy of a young Louis Garrel."  And The Hollywood Reporter also praised, "Chalamet's face and body language turn his character into an open book. The minutes-long and wordless final shot is so mesmerizing that it immediately cements his status as one of the world's brightest young talents."
Though the film has been acclaimed, it's not without controversy as it's based on a novel where a graduate student (Armie Hammer) falls in love with a 17 year old boy.  The film promises to become a gay classic, the next BROKEBACK MOUNTAIN.  In fact, James Ivory who helmed another gay romance classic, MAURICE, adapted the screenplay.
Timothée Chalamet also stars in the TIFF-praised indie western HOSTILES with Christian Bale.
A native New Yorker, Timothée Chalamet began his career as a child actor in TV commercials.  He eventually landed a part on the TV series ROYAL PAINS (coincidentally, Ezra Miller also appeared in this series). Then he made his stage debut in an off-Broadway production of THE TALLS.
In November, Chalamet will be presented with the Hollywood Breakout Performance Actor Award.  Will Chalamet's career blast off to A-list heights? Anything is possible – even in the indie world. He is very much in demand. Timothée Chalamet auditioned for Spiderman but lost out to Tom Holland. He is in the TIFF-praised indie western HOSTILES with Christian Bale.  And he is currently working on a project with Woody Allen, another with Steve Carrell. Ezra Miller surprised Hollywood by seemingly coming out of nowhere to land the coveted role (and new DC franchise) of The Flash in JUSTICE LEAGUE.  Chalamet could be on track for similar stardom.
About the contributing writer: Harrison Cheung is the award-winning author of the Christian Bale biography, THE INSIDE STORY OF THE DARKEST BATMAN.