Ryan Phillippe, Armie Hammer, Sofia Richie, Scott Disick, Wilmer Valderrama, Irina Shayk, Winnie Harlow and Ed Westwick were just some of the Western celebrities/influencers who have been blasted by social media for accepting an invitation to attend the MDL Beast Festival in Saudi Arabia.
Journalist Yashar Ali reported that these celebrities were given the VIP treatment to attend, including appearance fees ranging from six to eight figures – amounts confirmed by celebrities who declined to attend.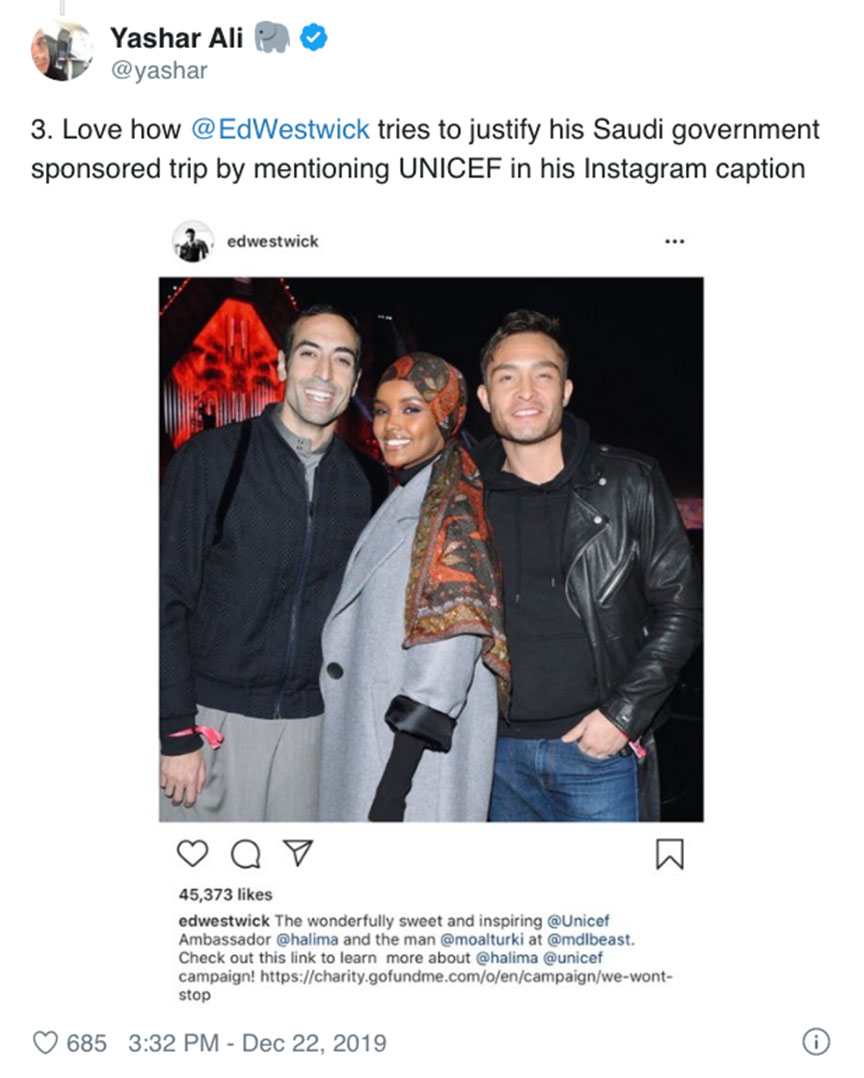 The MDL Beast Festival comes just days after Saudi Arabia announced that five unidentified defendants would be executed for the savage murder of Washington Post journalist, Jamal Khashoggi.
Visiting a country that has a terrible human rights record, including anti-women and anti-LGBTQ laws, Armie Hammer, fresh off his triumphant turn co-starring in the gay drama CALL ME BY YOUR NAME, took great pains to defend his attendance, posting on Instagram:
"What I just witnessed was truly special. I saw Saudi men and women ecstatic about an event that they thought they would never see in their lifetimes. It felt like a cultural shift. Social evolution is slow and takes time but what I was able to be part of felt like one giant seed of growth."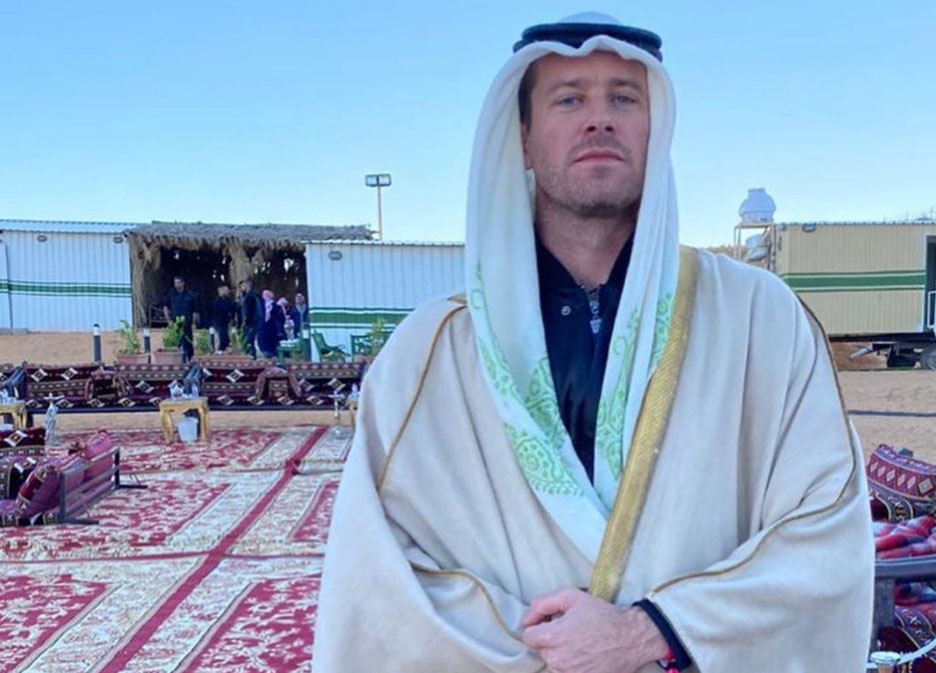 To that, someone responded, "Try promoting CALL ME BY YOUR NAME there."
Did Armie Hammer, the scion, and heir of the Hammer oil fortune really need to go to the MDL Beast music festival in Saudi Arabia?
Ryan Phillippe did not take criticism of his trip very well. He blasted posts on Instagram and tweeted, "so many dumb non ideas and annoying parroted statements having to do with politics and other group think opinions. it's tiresome, predictable, preachy, and pious."
Of course, not every invited celebrity attended. Model Emily Ratajkowski told Diet Prada she turned down Saudi Arabia's offer to attend, citing her concern for its human rights violations. She stated, "It is very important to me to make clear my support for the rights of women, the LGBTQ community, freedom of expression, and the right to a free press. I hope coming forward on this brings more attention to the injustices happening there."
Supermodel Teddy Quinlivan also declined to attend, tweeting, "If you're been thinking you're seeing a lot of influencers in Saudi Arabia you're not wrong," she wrote. "The Saudi Arabian Government is paying influencers to positively promote travel and events in Saudi Arabia. To save face after the brutal assassination of Journalist Jamal Kashoggi."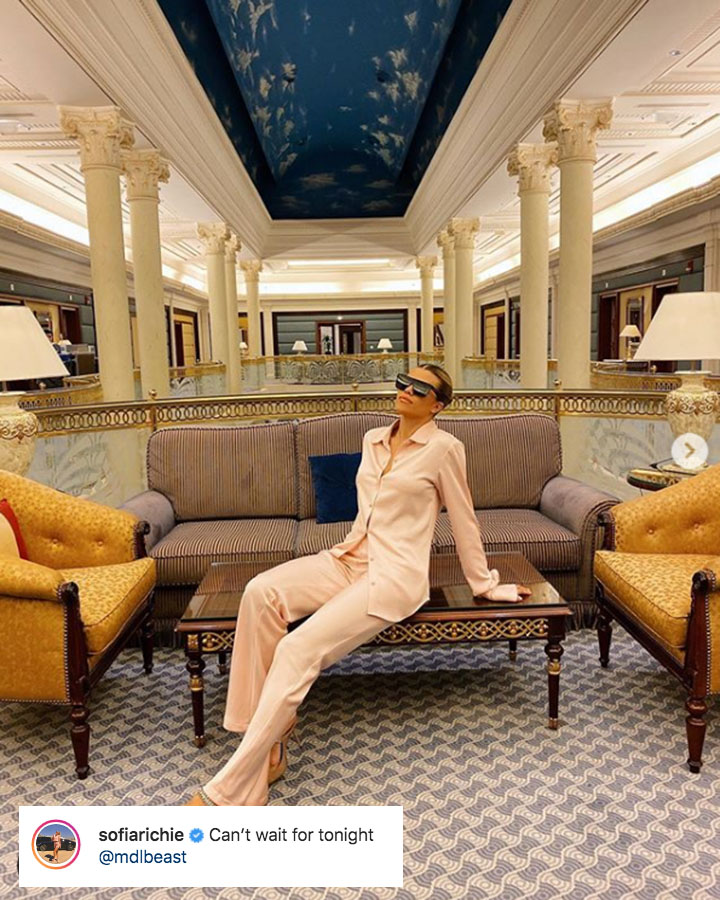 Nicki Minaj recently dropped out of a Saudi Arabian music festival, stating, "While I want nothing more than to bring my show to fans in Saudi Arabia, after better educating myself on the issues, I believe it is important for me to make clear my support for the rights of women, the LGBTQ community and freedom of expression." But rapper 50 Cent, Janet Jackson and Liam Payne went on to headline that same festival which had the goals of, according to Drum Marketing Magazine, "creating a progressive story to reflect the values of the rising youth culture, positively promote the Jeddah Kingdom and create a new era in entertainment history for Saudi." The concert, Jeddah World, took place in July just three months after five men were executed for same-sex acts.
Ever since the first celebrity endorsement, we've had an uncomfortable relationship between fame, fortune and politics. When South Africa still had apartheid, top rock acts banded together to boycott appearing at Sun City, a South African music festival, even spinning out a hit Bruce Springsteen-led protest song, "Artists United Against Apartheid – Sun City."
Bob Geldof pulled together a number of UK musical celebrities to record the hit 1984 song "Do They Know It's Christmas?" to raise money to relieve the famine in Ethiopia.
So if celebrities realize they can use their profile to promote a cause, why don't celebrities also realize their profile can be used for nefarious reasons? Saudi Arabia has been accused through this MDL Beast Festival incident of using its vast resources to weld "soft power" to promote tourism and improve its image. Did the Western celebrities who attended MDL Beast naively go for the fun of it? Did they just take the appearance money and run? Or did they really believe – as Armie Hammer wrote – he was a part of "social evolution" by attending a music festival?
Karen Attiah, a Washington Post reporter and colleague of Khashoggi's, criticized the attending influencers, "The regime has been working overtime and spending billions to try to rehabilitate its image, partly by using western influencers," she tweeted, adding, "What good is your platform if you overlook Saudi regime's murder and torture for a few bucks? These influencers are just for-hire human billboards."
————–
About the contributing writer:
Harrison Cheung
 is the award-winning author of the Christian Bale biography, THE INSIDE STORY OF THE DARKEST BATMAN.