Here comes the first trailer to Child 44, released by Summit Entertainment. Based on Tom Rob Smith's best selling 2008 novel, the film stars Tom Hardy (The Dark Knight Rises, Mad Max:Fury Road, Noomi Rapace (The Girl with the Dragon Tattoo, Sherlock Holmes: A Game of Shadows), Joel Kinnaman (The Killing, RoboCop), Gary Oldman (The Dark Knight, Dawn of the Planet of the Apes), Jason Clarke (Zero Dark Thirty,Terminator Genysis) and Vincent Cassel (Black Swan, Trance).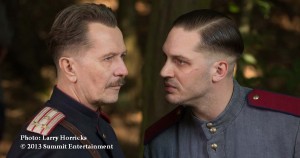 Directed by Daniel Espinosa (Safe House), the new thriller set in 1953 Soviet Russia introduces the viewers to Leo Demoidov (Hardy) who is struggling to regain his status, power and more since losing them when he refused to denounce his wife, Raisa (Rapace) as a traitor to the country.
After being exiled to an outpost outside Moscow, Leo and Raisa team up with General Mikhail Nesterov (Oldman) to track down a serial killer who preys on young boys. This quest for the truth, with possible ties to cover-ups in higher places leads to Leo's psychopathic rival Vasili (Kinnaman), who insists "There is no crime in Paradise."
Penned by screenwriter Richard Price, and produced by Ridley Scott, CHILD 44 arrives in theaters on April 17, 2015.