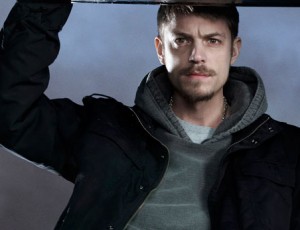 You know you're a hot guy (physically and career-wise) in Hollywood when you wake up in the morning with someone who is the #2 women on "Maxim's" 2012 list of hot 100 (Olivia Munn); and wake up knowing you're starring in the (potentially) #1 movie in the country, the remake of "Robo Cop."
We are speaking about Joel Kinnaman who is 50% Swedish, 50% American and 100% talented.  Not only does he look like he can be the next James Bond after Daniel Craig can't fire the gun like he used to, but his talent has been recognized by his home country, Sweden. That is, he won a "Guldbagge;" the Swedish version of a Best Actor Academy Award (okay, the competition may have been the two guys in "ABBA," but hey, an award is an award). And others in filmmaking world have taken notice.  This includes top director Terence Malick, who chose Mr. Kinnaman to co-star in his "Knight of Cups" with Christian Bale.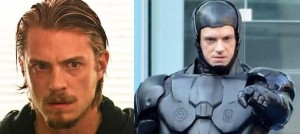 Other co-starrers that will be released in 2014 include "Run All Night" (with Liam Neeson) and "Child 44" (written by Richard "The Wanderers"/"The Color of Money" Price) and co-starring Gary Oldman.
It's safe to say his talent shines through—even through a "Robo Cop" helmet.
The bad side is…
If he keeps getting and nailing these great roles, no doubt the Screen Actors Guild will form a committee called "SSFA" (Stop Swedes From Acting).