Great find (BNH recommends):
ITV's
"THE TAKE",
a 2009 miniseries event (now condensed into 176 minutes on one DVD), starring:
Tom Hardy
, Brian Cox, Shaun Evans and
Charlotte Riley.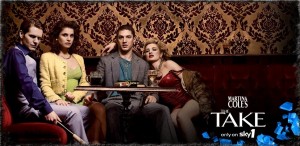 In this U.K. made TV mini-series adaptation of Martina Cole's novel Tom Hardy ('Inception') plays Freddie Jackson who is leaving prison in 1984 after serving 4 years for bank robbery, and planning to get back into the game unknown to his loyal wife Jackie (Kierston Wareing) who has been loyally sticking it out until he is released.
Keen on becoming king of the East End underworld, Freddie gets to work in making his presence and building a crime empire when his criminally ambitious young cousin Jimmy (played by Shaun Evans, from the movie 'Boy A') crosses paths with him. Adding to the drama the young cousin is the love interest to Jackie's younger sister Maggie, played by Charlotte Riley ('Wuthering Heights '- ITV). It's a tale of questioned loyalties, jealousy and violence, testing the family during the a 10 year span of change in the British socio-political change, with the Margaret Thatcher era as a back drop.
In short; we loved this slick, tightly pieced together crime drama. It has all the stuff guys love to see in a crime flick, with the added real-life touches to keep your girl on your side as you both watch and enjoy.
The Take on Netflix:  http://www.netflix.com/Movie/The-Take/70133082?trkid=148368