A lot of people make assumptions about Armie Hammer. With Golden Hollywood classic good looks, a strapping 6'5″ frame, and a pedigree from one of America's most famous families, it would be easy to assume that things come easy to Hammer. Not so.  His is a career of near misses and hard work. Anyone remember Balthazar Getty?
Hammer began as an actor with TV roles, but he launched his film career with a strong double performance in the 2010 controversial drama about the genesis of Facebook, THE SOCIAL NETWORK playing the Winklevoss twins. Next up he starred opposite the 2012 Julia Roberts bomb MIRROR MIRROR where Hammer played Prince Charming, errr, Prince Alcott.  But the powers that be decided Hammer had the presence and star power to helm the launch of a franchise, and he soon was doing press around the world for the huge Disney bomb, THE LONE RANGER, opposite Johnny Depp as Tonto!  Before Disney could finish sorting through the red ink, Hammer was starring opposite Henry Cavill in the reboot of the spy series, THE MAN FROM U.N.C.L.E. which unfortunately also bombed.
By focusing on films with real and human stories and better roles, Armie Hammer can end up and stay on top.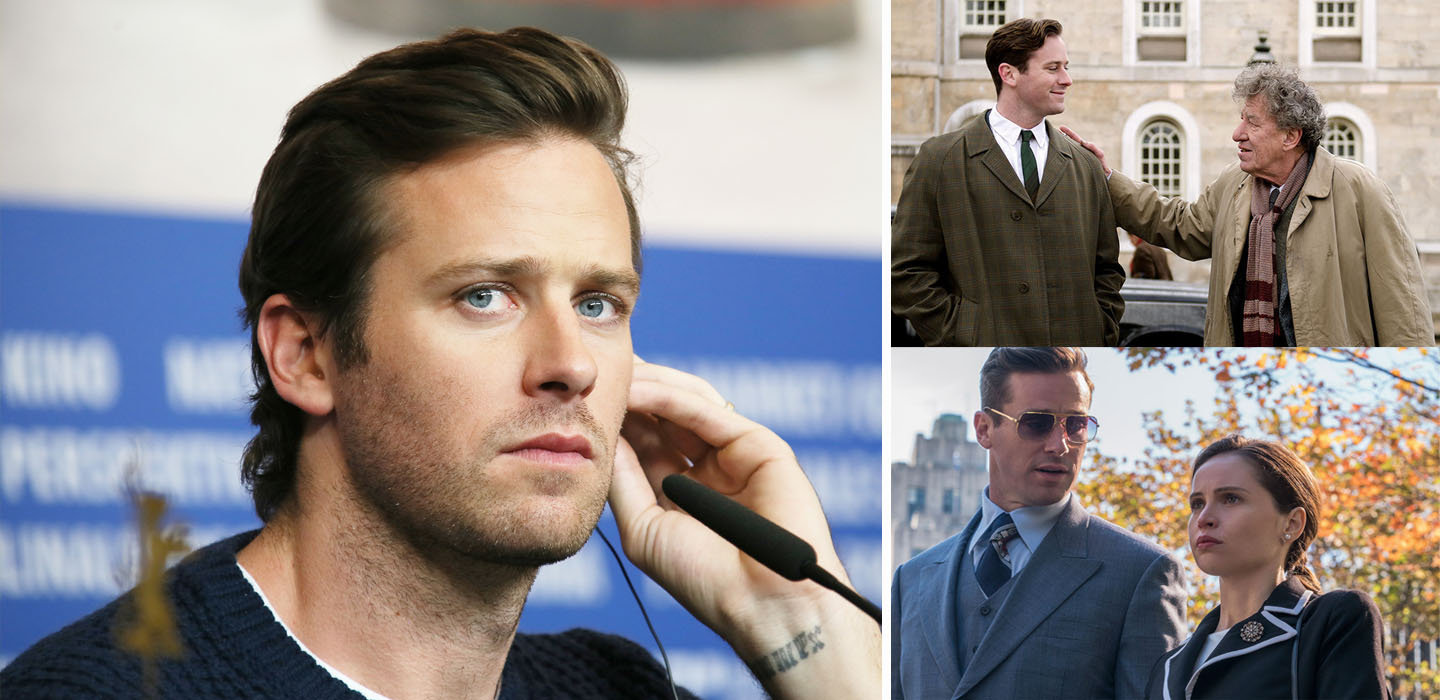 Conventional Hollywood wisdom states that a trio of bombs ends careers.  But a smart actor would also notice that the large studio films were garnering terrible, humbling reviews.  Hammer wisely shifted gears to smaller films and became a critic's darling once again.  He was next in the acclaimed BIRTH OF A NATION and was seen everywhere promoting last year's indie darling, CALL ME BY YOUR NAME, which gave Hammer his first Golden Globe nomination and his co-star, Timothee Chalamet, an Oscar nomination. Chalamet, a relative young unknown, had little to risk playing the explicit scenes, but name any other actor of Hammer's stature in the same role and you'd have to reach all the way back to 2005's BROKEBACK MOUNTAIN with the heady performances by Jake Gyllenhaal and Heath Ledger.  In BROKEBACK MOUNTAIN's case, both Gyllenhaal and Ledger were Oscar-nominated, so why didn't Hammer get a nomination as well for his wonderfully nuanced work in CALL ME BY YOUR NAME?  Nevertheless, CALL ME BY YOUR NAME earned Hammer great reviews and a boatload of critics' and film festival awards.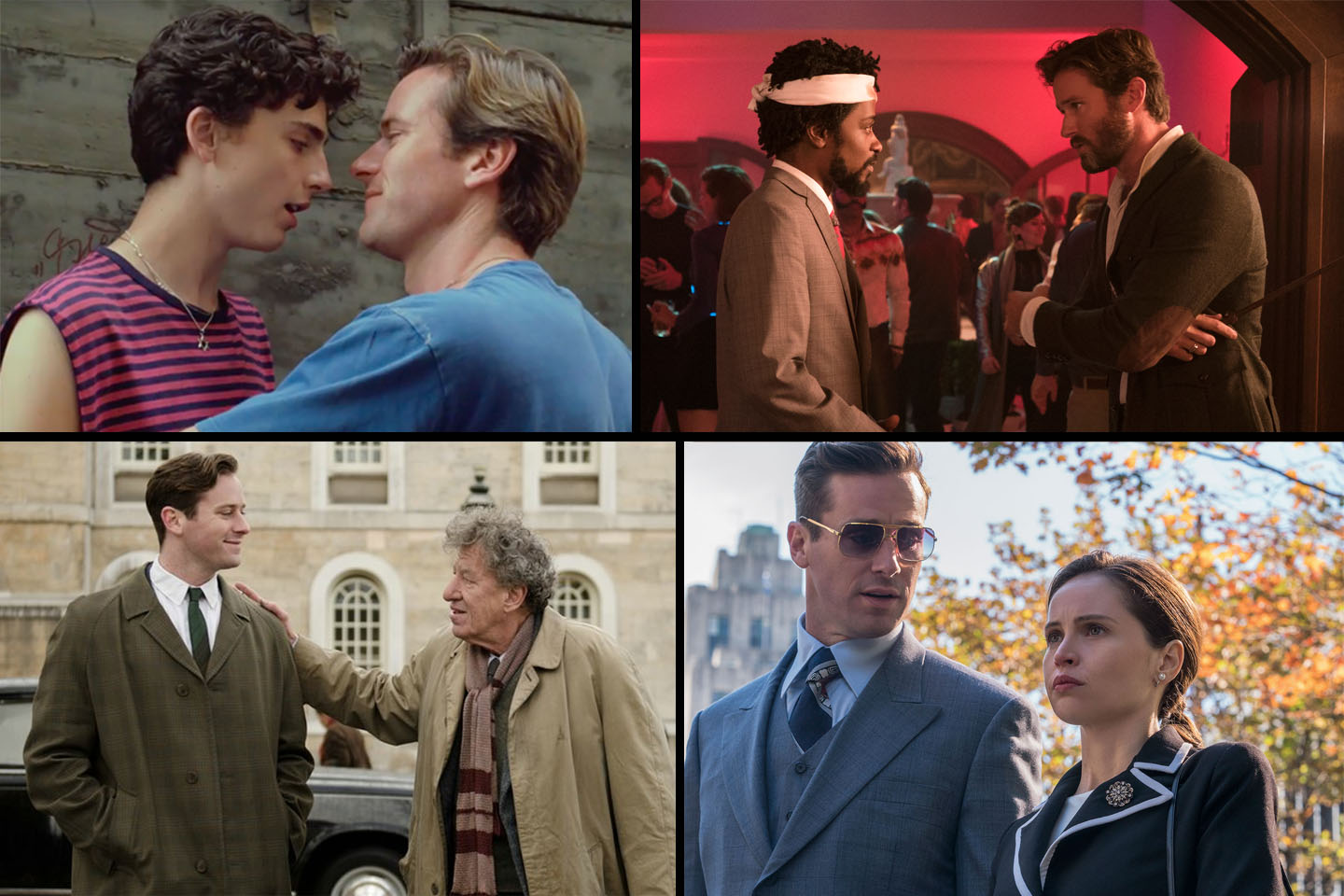 The challenge for Hammer is that as Hollywood discovers diversity, a traditionally handsome WASPy man like Armie Hammer seems slightly out of step, a star from yesteryear. You can't take your eyes off him.  But if you look beneath his good looks, you'll find that Hammer has been honing his craft, delivering the kind of intensity reminiscent of a young William Hurt.  Note to Hollywood – remake BODY HEAT with Armie Hammer, please!
Hammer is also a workhorse, happily and enthusiastically doing press to promote his indie films.  He and Chalamet were doing interviews worldwide all year last year, and just as the Oscar campaigning began, Hammer was back on the film festival circuit promoting Stanley Tucci's FINAL PORTRAIT opposite Geoffrey Rush.  Hammer was back at the Toronto Film Festival this month promoting HOTEL MUMBAI, about the 2008 Mumbai bombing, and then he's off to promote ON THE BASIS OF SEX: THE RUTH BADER GINSBURG opposite Felicity Jones.  Clearly, Hammer is finding greater satisfaction in these smaller, non-studio, non-traditional projects.   Next up is the rumored CALL ME BY YOUR NAME sequel which will be interesting since the novel on which the first film was based does not have a sequel.
Maybe the sequel will finally land Hammer the Oscar.
About the contributing writer: Harrison Cheung is the award-winning author of the Christian Bale biography, THE INSIDE STORY OF THE DARKEST BATMAN.