To call it jaw-dropping would probably be an understatement. When it comes to the story of this film and its subjects, once again, it is evident that real life truly is stranger than fiction, and while at times sad, painful, and unbelievable, it remains the most fascinating subject to record and places up on a screen.
Our film pick: Three Identical Strangers (directed by Tim Wardle) is a new documentary film that tells the riveting true story of three brothers, Bobby, Eddy and David Shafran, identical triplets who until the age of 19 were completely unaware of each others' existence having been adopted by three different families. By being at the right place, at the right time, a most unlikely reunion takes place, connecting two of the brothers after two decades of separation. But wait there's more! It's that kind of a film.
The layers being peeled in this documentary will make any writer of a mystery thriller novel or screenplay jealous with envy. It's a case of "you can't make this stuff up," as the filmmaker takes the viewer down a twisted rabbit hole of intrigue, joy, betrayal, heartbreak, and lies.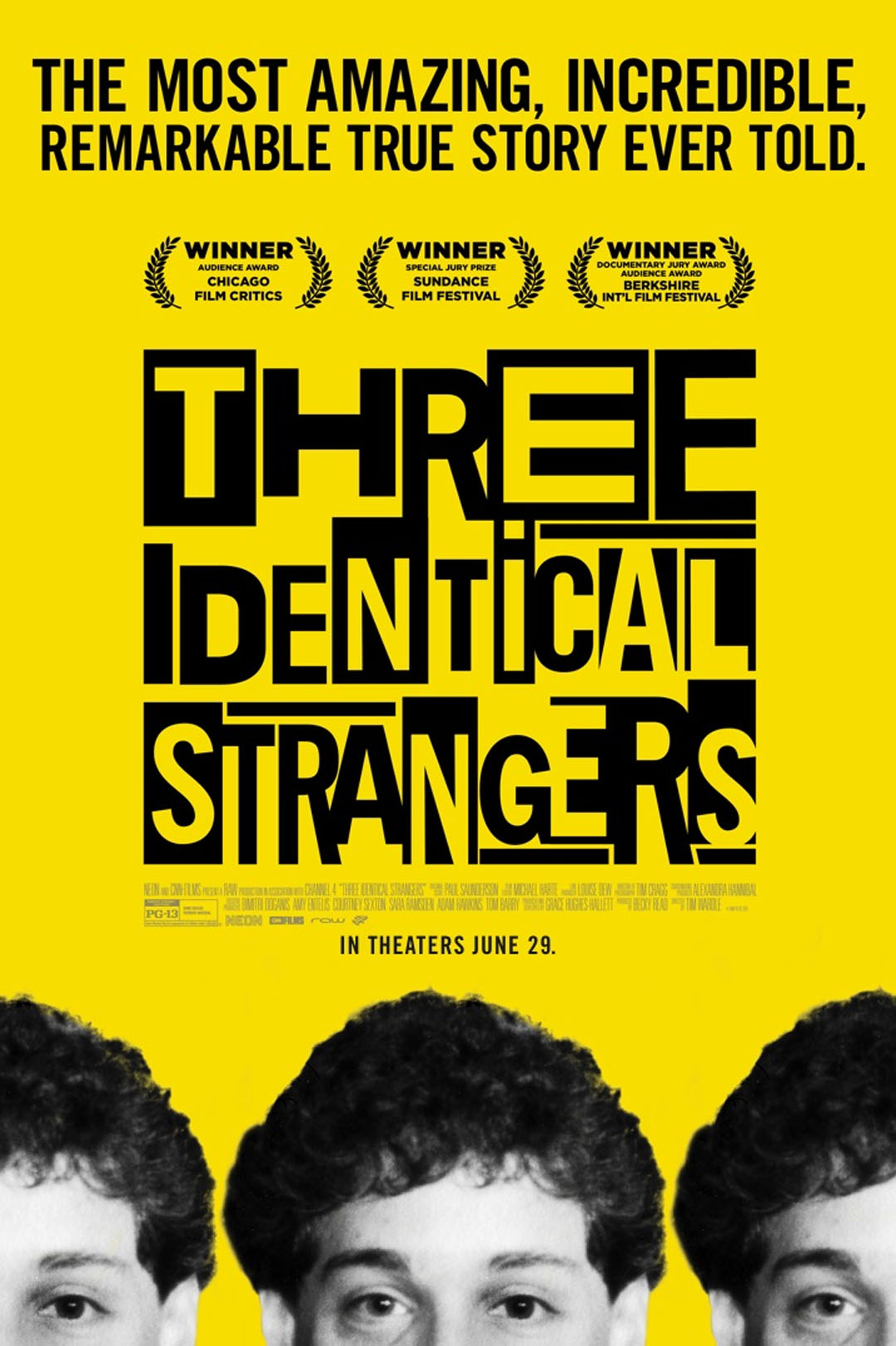 Advice to viewers: when watching Three Identical Strangers, do not bother collecting your jaw from the floor because it will drop again and again.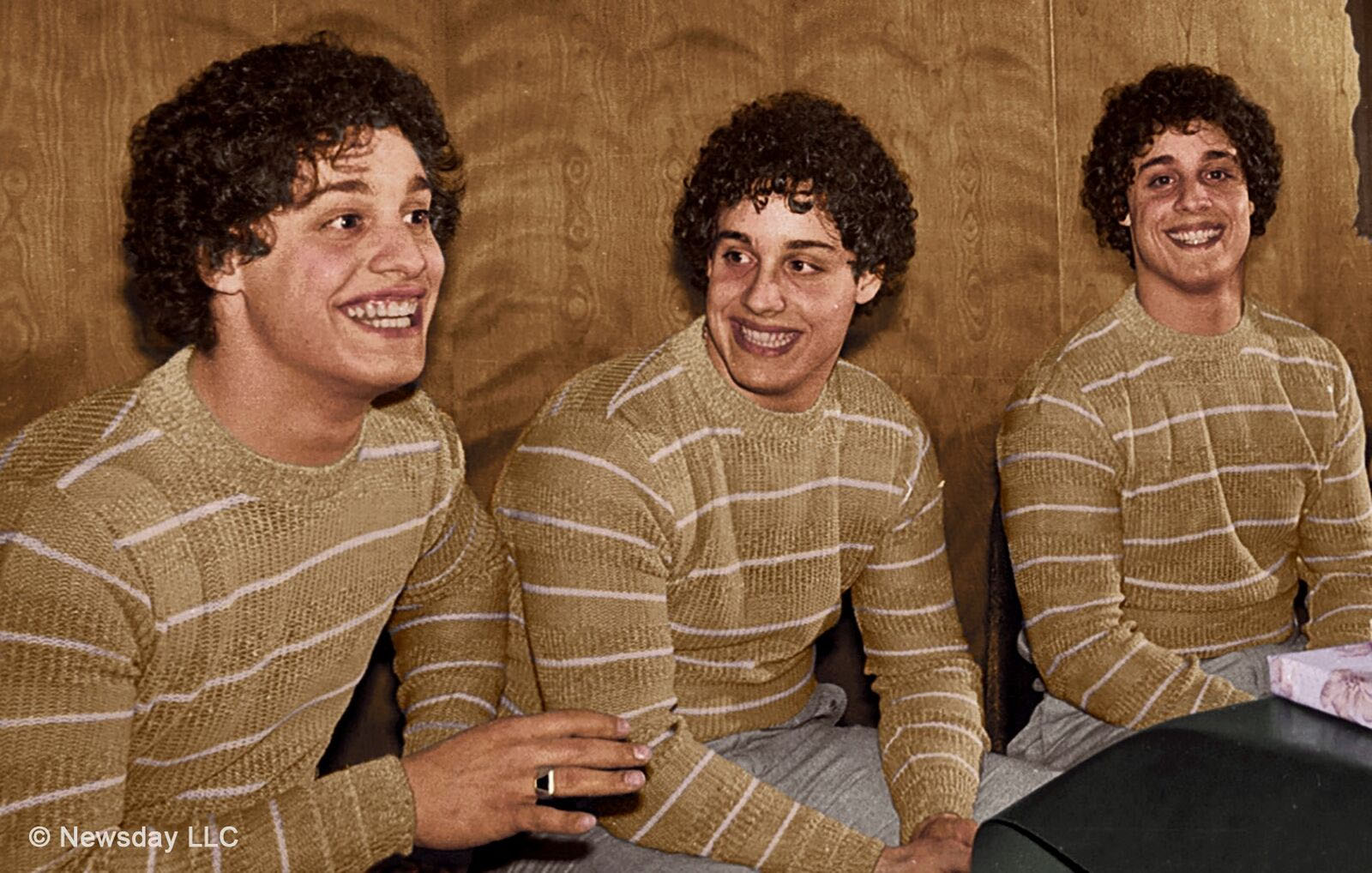 Expertly constructed by its filmmaker, Three Identical Strangers through first-person accounts, utilizing a limited number of documents and pictures manages to shock, and entertain while keeping the audience on the edge of their seat from beginning to the end.
Three Identical Strangers (documentary film) shows that what binds us might not stand a chance against the unseen conditions that will shake it and tear us apart. The film won the Special Jury Award for Storytelling at the 2018 Sundance Film Festival.
Through carefully pieced together video footage, photos and interviews, director Tim Wardle delivers an unforgettable, powerful film with Three Identical Strangers. It makes the Shafran brothers America's sons, forever.
It's difficult to talk about this film and express the level of emotional involvement its audience will be in without giving away key parts of the story, but we will not do it here. Yes, it's how urgently we want you to see and experience this powerful, skillfully made picture.
Three Identical Strangers is one of the must-see films of 2018! 
The Shafran brothers became a popular, recognizable household name, after reuniting in 1980, and then re-telling their story, over and over again, on national television and in publications. Through carefully pieced together video footage, photos and interviews, director Tim Wardle delivers an unforgettable, powerful film and deservedly makes the triplets America's sons, forever.
Released by CNN Films and Neon, Three Identical Strangers will be released nationwide on June 29, 2018.
Possible Spoiler Alert: Below, we have embedded a clip from Three Identical Strangers. Feel free to skip it, if you do not want to know more until you watch this truly unique and moving film.
[videos file="https://youtu.be/pUN-oRWtiZQ" width="560″ height="315″][/videos]