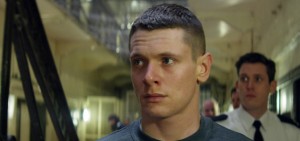 Official trailer for British crime drama 'Starred Up' (2013) – distributed by Tribeca Films, starring Jack O'Connell, Ben Mendelsohn, and Rupert Friend. Eric Love (O'Connell), is a troubled and explosively violent teenager who has been transferred to adult prison where he finally meets his match – his father. Directed by : David Mackenzie (Spread)
Starred Up opens in limited release on August 29, 2014 (New York), and on VOD.
CLICK HERE for the film's official website.