RISING STAR: We pride ourselves on spotting new talent here at Brave New Hollywood and the latest rising star who should be on your radar is Jack O'Connell. The 24-year-old British actor has been on the scene since 2005 with smaller roles in film and TV—notably Skins, which has become something of a talent incubator—but he's really popped this year: he was among the brawny, sword-swinging cast of 300: Rise of an Empire, and he was hand-picked by no less a luminary than Angelina Jolie to star in Unbroken, the World War II biopic based on the megahit book. In the meantime, O'Connell is toplining Starred Up, a British prison drama "that's already won him raves across the film festival circuit," notes TheWrap.com, and is now landing Stateside. Don't miss this one, film fans.
The U.S. distribution rights for Starred Up were quickly locked down by Tribeca Film after it screened last summer at the Telluride Film Festival and Toronto International Film Festival. O'Connell was nominated for Best Actor at the British Independent Film Awards in December 2013 and won Best Actor a few months later from the Dublin International Film Festival. The film was released in U.K. theatres this spring and now, finally, U.S. audiences get a chance to see what the fuss is about.
Starred Up was directed by David Mackenzie from a script by Jonathan Asser, who based the screenplay on his own experience working with the criminal population at London's HM Prison Wandsworth as a voluntary therapist. ("Starred up" describes a young inmate transferring to the adult prison.)
"Some years from now, Starred Up, a rough, violent… British prison drama, will be remembered as the film that announced a new star, Jack O'Connell," says HollywoodReporter.com. "A handsome, tautly built powder keg with watchful animal eyes… his performance here as an ultra-violent anti-social kid in the slammer shows off the actor's James Cagney like bantam cock vitality and quicksilver mood changes."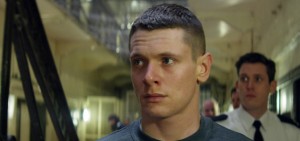 He told TheWrap.com that he "takes the film personally, having gone through his own youthful indiscretions." O'Connell notes he had trouble securing a work visa to travel to the United States. "I really, really, had to dig dip to get a second chance," he recalls. "I had to spend a lot of time doing drug tests and alcohol tests and even after doing that, I was denied once. It's just been a case of letting my actions do the talking. I know I'm not a liability to myself; I'm not violent, either. My life isn't a struggle anymore."
TwitchFilm.com says the film is a "gritty, intense and shockingly unique take on the prison drama genre… There are no easy answers or choices here, but each moment is played with such believability that at times it's quite unsettling." The review says O'Connell's performance is "one of the finest of the year."
The actor is aware that he's already earned a rep for intensity. He recently spoke about seeking out physical and emotional challenges to Vulture.com and it's refreshing to hear a more humble and straightforward take, rather than the usual pretentious blather. "I think that's the reason why we all do it, essentially. It's to gain experience, for which my tolerance levels have perhaps been bettered for future roles," he said. "I feel a huge sense of achievement when I do those films, and that sort of speaks for itself as well. I just want to move forward responsibly, I guess."
What more do you need to know? Go see Starred Up and watch a star being born. It opens this weekend in New York and expands over the few weeks, and is available anytime on VOD and On-Demand via most cable providers.
CLICK HERE for the official website.
CLICK HERE to watch Starred Up on Tribecca Film's YouTube channel.