It's time to tell you about a cool and stylish indie film that's going to make a big splash. Judging from the reception and its storytelling style, we predict it is headed for a wider release and more eyeballs, we hope. Tangerine by director Sean Baker is that film.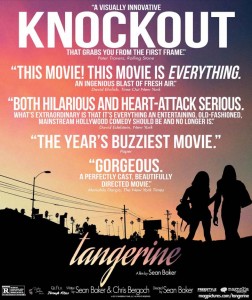 We will go out on a limb and say you have not seen a film like this. Tangerine's high-energy, unrestrained, entertaining structure is all its own.  It is funny, clever and you better keep up.
In it, a transgender working girl Sin-Dee (actress Kitana Kiki Rodriguez) pounds the harsh pavement of Hollywood, on Christmas Eve after the pimp who broke her heart. At times, accompanied by her friend Alexandra (actress Mya Taylor) who is trying to talk sense into her and to divert Sin-Dee from this mission seeing the state she is in.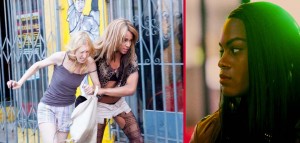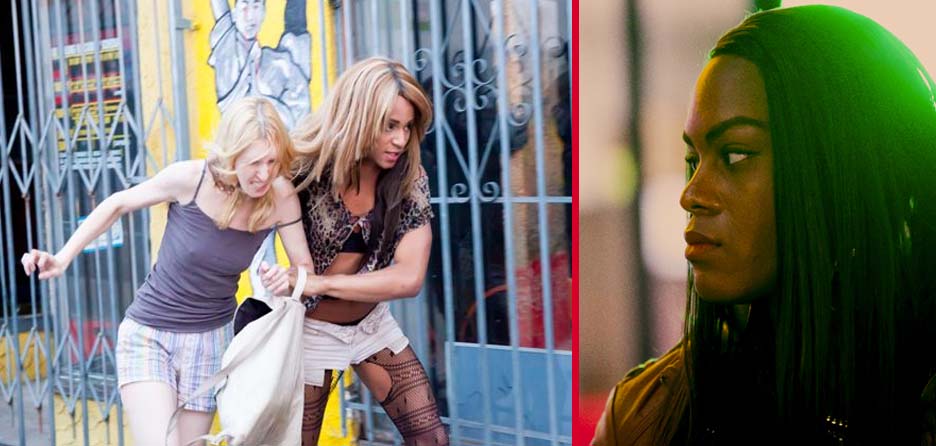 Shot on iphone 5S (without the over-the-top fancy gadgetry) other than prototype adaptors, by Moondog Labs (for mounting anamorphic lenses), the filmmaker and D.P. Radium Cheung use a couple of accessories to steady the captured shots, the sound, and put the focus on actual filmmaking: fully fleshed characters, a compelling story, and a visual style. That's how Mr. Baker delivered what we think is a very impressive film.
The tension builds and builds thanks to the fast paced editing of shots where the camera (the iphones), by chasing after its subjects, manages to outrun them and get in front of the action, only to be left behind, in an effective cat-and-mouse manner which serves the film beautifully.
Baker achieves what his previous film Starlet was praised for, the lack of judgment for its subjects. It is an attitude that allows the story to unfold as it is, in a more realistic, life-like flow, without manipulation and favoring one side over the other.
The filmmakers give the film another layer the way they capture the smog-filled, highly saturated, orange hue of the busy streets in the afternoon. It keeps the film alive and radiant, and in sync with its lead characters obsession and determination.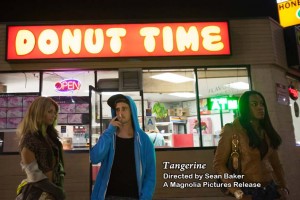 Cast members have a unique and important chemistry, considering some are first-timers as actors, and from different cultural backgrounds.
In addition to strong, career-launching performances by Rodriguez and Taylor, applauses go to veteran Armenian actress Alla Tumanian, as Ashkhen, the relentless, pushy mother-in-law aggressively going down the shady tracks of discovering the truth, like a runaway train.
Watch out for actor James Ransone (The Wire, on HBO, and Sinister 2) who manages to melt into the scene like he was born and brought up into that life. The word "real" is tossed around a lot in acting. As the no-good pimp boyfriend, James Ransone is the real deal in Tangerine.
We hope you support independent cinema and go see Tangerine, in theaters now.
CLICK HERE for more info and detailed release dates.