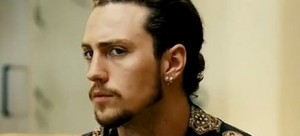 Sure, we all love handsome leading men, Ryan Gosling and Michael Fassbender, but it doesn't seem like anyone outside of rabid comic fan boys and pedigreed directors know of Mr. Aaron Taylor-Johnson. It's a shame, because this kid's the real deal. Blessed with Paul Newman's dreamy baby-blues and Johnny Depp's supernaturally perfect bone structure, his matinee idol looks do little to distract from his piercing talent.
Like most English actors, the rising star's a work horse who'd built up quite a resume amid film and television in his native UK. Lucky for us though, he broke across the pond with his first leading role in 2009's Nowhere Boy, playing a cocky and spirited pre-Beatles John Lennon. Directed by his future wife, Sam Taylor-Johnson, a noted conceptual artist and photographer, the film is a bit lacking in structure and point of view, but one can't deny its lead's rock star charisma.
And by 2010's Kick Ass, it seemed like audiences no longer could either. It might have been the comic book that it was based on, or the devoted following of talented director Matthew Vaughn (Layer Cake, Stardust, X-Men: First Class– I like to think of him as the Robert Rodriquez of the UK). Perhaps it was Chloe Grace Moretz's breakthrough role as Hit-Girl; however it's Taylor-Johnson's wide-eyed everyman who ultimately grounds the film. I'd be lying if I said that I was transfixed by Kick Ass, instead I found it a bit gratuitous and frustrating, but I can't deny that it offered some blistering performances.
A face and talent like Aaron's needed more of a mature, complex role to truly display all his gifts. The actor wisely chose to follow the Comic Blockbuster with a supporting role in the Glenn Close passion project, Albert Nobbs, as well as the Oliver Stone violent pulp flick Savages. Nobbs was a bit stuffily Merchant Ivory, but Savages, now that was an entirely different story.
Ok, I understand all the criticism of the film and its controversial director. Yes, it is Stone at his most superficial/sadistic-ly hyper-violent, telling the tale of a privileged SoCal beach girl and her two paramours, who team up to run a pot business that leads to a dicey situation with a Mexican Drug Cartel. Taylor-Johnson plays Ben, the organic, spiritual hippy of the two dreamboats, who is forced to confront his own core beliefs when the shit hits the fan. While his costars Blake Lively and Taylor Kitsch seem to believe they have nothing more to do than beautify the scenery, the gifted Brit turns in a performance that is layered, soulful, and extremely sexy. In fact, he is the only lead to amply hold his own with an at-the-top-of-their-game supporting cast including Salma Hayek and John Travolta.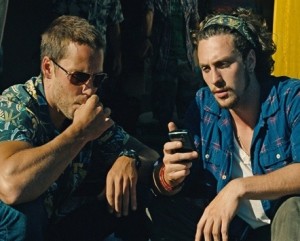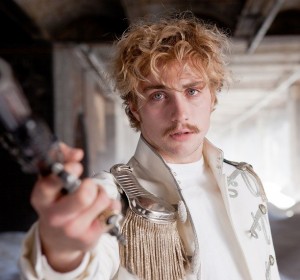 Yet if Savages made me a tried and true fan, it was Joe Wright's Anna Karenina that truly got my heart a flutter. Playing forbidden Vronsky to Keira Knightley's title character, Taylor-Johnson is everything a dashing aristocrat should be: postured and pristine, classically handsome and dangerous. In what is clearly one of the defining roles in Tolstoy's masterpiece, the actor proves once and for all that his handsome face and expressive eyes are merely the vessels he uses to suck audiences (or in this case Keira) into his complex world. Some called the movie experimental and superficial, but I'm gonna come right out and say that Joe Wright is taking the gorgeously artistic risks that used to make Baz Luhrmann's films so good.
It'll be interesting to see how Kick Ass 2 does out of Matthew Vaughn's skilled hands. Merely a producer on this new one, Vaughn chose relative newcomer Jeff Wadlow, whose only full length directorial features include 2005's college thriller, Cry Wolf and 2008's Spike TV-ready Never Back Down. Regardless, I have no doubt that Aaron Taylor-Johnson will bring something new and exciting to the screen when he once again dons the green suit.
CLICK HERE for more ATJ on Brave New Hollywood.
CLICK HERE for our earlier review of "SAVAGES."