Posted on 13. Dec, 2011 by Harrison Cheung in Featured, Movies
A personal pet project for Glenn Close for 15 years, ALBERT NOBBS hits the big screen in limited release – but just in time for its star, Close, to be eligible for an Oscar nom.
With the poignant ponderous pain of a Jane Campion film, ALBERT NOBBS is a slow paced drama set in late 19th century Dublin. This is of course the highly conservative period in Ireland and England when gay people could be ruined and imprisoned for their lifestyle (check out the superb 1987 Merchant Ivory film, MAURICE, as well as the current PBS Masterpiece Classic, DOWNTON ABBEY for more about the attitudes of the time.) Close plays Albert Nobbs, a woman dressed as a man, who has worked at an upscale boutique hotel for years as the head of staff.  While Nobbs chose a male identity originally for more career opportunities, she doesn't really realize that she's a lesbian until she meets housepainter, Hubert (Janet McTeer), another cross-dresser who is happily married to a woman.
Fascinated and envious of Hubert's domestic relationship, Nobbs decides that she too might be able to fall in love and have a happy life, so she sets her sights on a seemingly innocent maid, Helen (Mia Wasikowska – JANE EYRE) courting her chastely with strolls in the park and showering her with presents.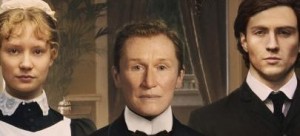 Some problems with the film. Glenn Close is as convincing a man as Robin Williams was as a woman. Close has a fake nose prosthesis but otherwise, she doesn't really convince vocally or physically that she's in drag, especially as she's trying to modulate a male voice with an Irish accent. And while NOBBS tries to deal with social issues like feminism and gay marriage, it clumsily comes across as a nerd versus jock love triangle crossed with a lite version of REMAINS OF THE DAY.
Rising UK star, Aaron Johnson (NOWHERE BOY, KICK-ASS), has the pivotal role of Joe Macken, a young, roguish and ambitious handyman who has zero scruples as he persuades his girlfriend, Helen, to milk gifts and money from the smitten Nobbs. Frustrated by class snobbery, Joe is trying to save, cheat and steal money to move to America.
Playing the love interest of both Nobbs and Joe Macken, Wasikowska has an interesting trajectory as she begins to feel guilty about using Nobbs for presents. Hormonally, she's all about handsome Joe and their bouts of sex.  But she is touched by Nobbs' gentle manners and modest dreams of one day opening up his/her own shop.
In more capable hands, ALBERT NOBBS could have had the poignancy of a classic like the similarly themed MAURICE. Films like NOBBS highlight the tragedy of isolation and secrets. But the uneven pacing and dialog that occasionally cracks some contemporary humor hints that Close was perhaps not content to let her director, Rodrigo Garcia, direct.  Close herself shares producer and screenwriter credits.  The end result is a slight curiosity of a film if you want to see if Glenn Close scores an Oscar nom trying to portray a man.
for "Albert Nobbs" official film website, CLICK HERE.