Movie-goers of a certain age may know Simon Rex from the SCARY MOVIES franchise where he played goofy characters and parodies of white rappers, poking fun at his own career goals when he perhaps looked enviously at Eminem with his own rapper name "Dirt Nasty."
If you didn't know Rex from SCARY MOVIE, you might have known him as an MTV VJ or male model for Hilfiger, Calvin Klein, Versace and Levis. With his ever-present abs and striking good looks, he was an early shirtless celebrity of the 1990s.
RED ROCKET is an unforgettable comedy-drama anchored by Rex's charismatic performance.
What could have been a career trajectory following the path of Mark Wahlberg was always blocked by NSFW solo porn videos he did when he was 19. Those videos along with the light hearted comedies he favored all come to a surprisingly touching performance in RED ROCKET as Mikey Saber, a down on his luck former porn actor who returns to his hometown in Texas to try to figure out a way to reboot his life and career.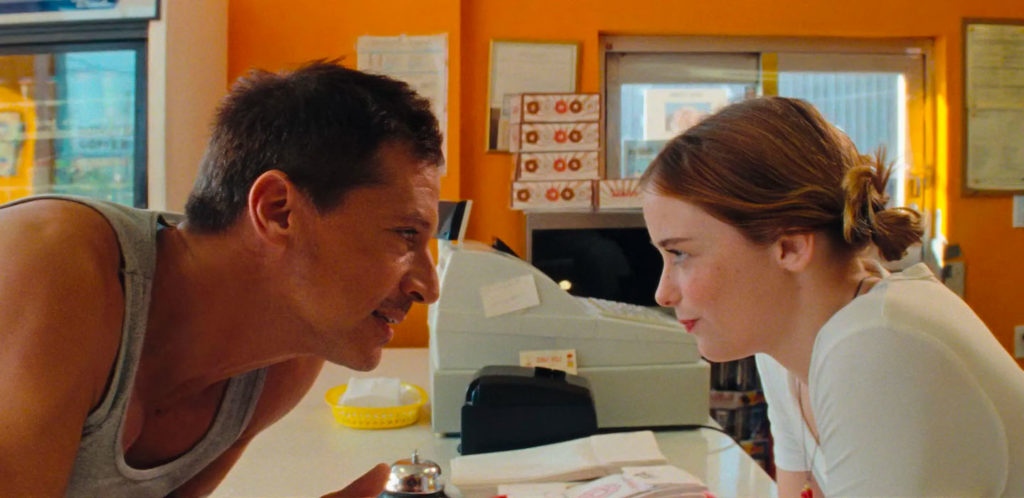 Writer/director Sean Baker (THE FLORIDA PROJECT) nails the claustrophobic small town of Texas City, a blue-collar, oil refinery city/suburb outside Houston. "Red rocket" is Texan slang for "erection." It's very clear why Mikey left town to become a porn star in Los Angeles. He's a hustler, a survivor who will figure out any angle to make it, even when it means working in porn.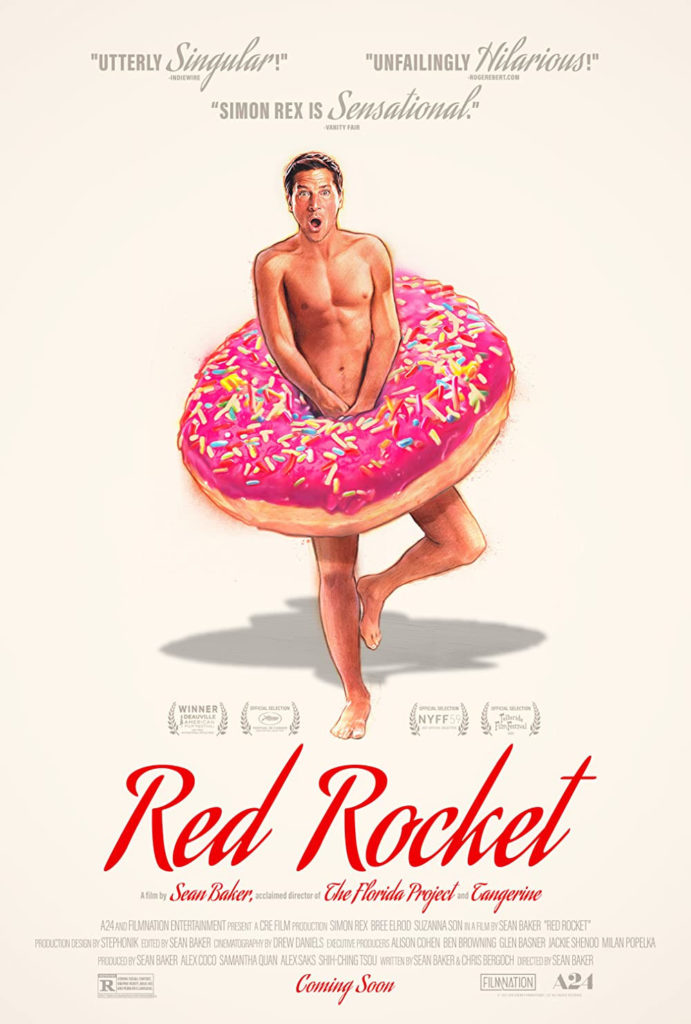 Back in Texas City, Mikey brags to the locals about his adult film credits and awards, but except for the teenagers, the conservative Texans are unimpressed with his VMA awards and Pornhub ranking, so Mikey has to figure out other ways to make money while staying with his estranged wife Lexi (Bree Elrod) and her mother.  Mikey soon resorts to drug dealing but an under-aged girl named "Strawberry" (a salacious performance by Suzanna Son) at the local donut shop catches his eye.
Can the ambitious Mikey stoke Strawberry's promiscuity and small town boredom to follow him back to LA to porn stardom?
RED ROCKET is an unforgettable comedy-drama anchored by Rex's charismatic performance. With Rex's own career history, it's difficult not to imagine the film as biographical (which he's rejected in interviews). But Rex's life experience brings Mikey to life with a legitimacy that few other actors could deliver, a scrappy man using his best assets, his sex appeal, to help him escape small town anonymity.  A must-see!
Watch the official trailer for Sean Baker's RED ROCKET movie below.
RED ROCKET (2021) Official Trailer