Molly's Game premiered at Toronto International Film festival (TIFF) on September 9, 2017 at the Wintergarden Theatre. After years as one of Hollywood's most prominent and polarizing screenwriters, Aaron Sorkin has finally taken his first foray into directing with Molly's Game, a true story based on poker madam Molly Bloom's rise and fall in the world of high-stakes underground gambling. See the film's official trailer below.
Fans of Sorkin's trademark rapid-fire dialogue and fragmented narrative structure will not be disappointed by his directorial debut; Molly's Game is without question the most "Sorkin-esque" thing the veteran writer has ever done, for better or worse.
Jessica Chastain stars as the titular Molly in a bravura performance that is easily her best since Zero Dark Thirty. She commands the screen in nearly every minute of the film's two-hour-plus runtime, and when she's not on camera she's delivering one of the many dense, tightly scripted voiceover monologues that propel the plot forward and allow Sorkin to flex his linguistic chops.
The film opens with a lightning-paced prologue detailing Molly's formative years as an aspiring professional skier, training under the stern tutelage of her overbearing father (Kevin Costner). After suffering a career-ending injury during her Olympic qualifying trials, she moves to Los Angeles and lands a job as personal assistant for a rich scumbag who also happens to run high-stakes poker games on the side.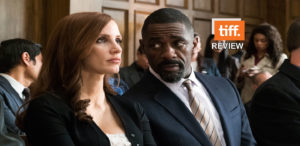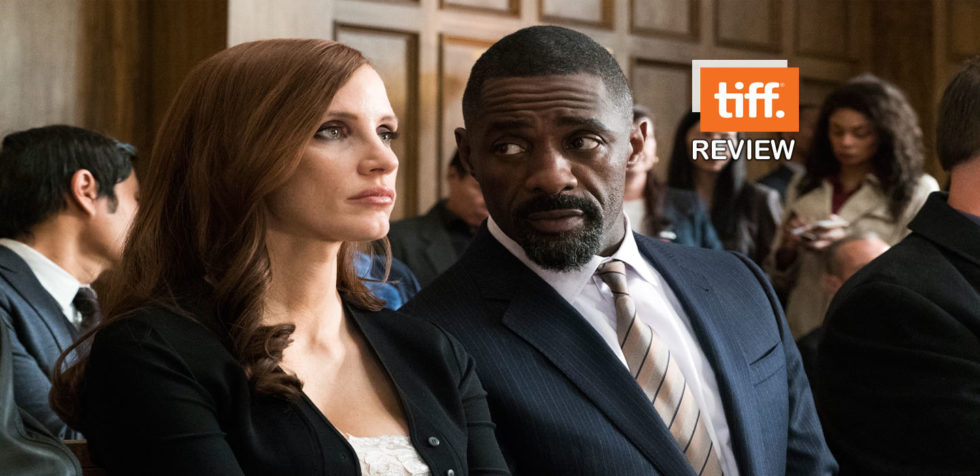 Molly begins managing these games and quickly develops a keen understanding of both poker itself and the high-rolling celebrities who play every week. Eventually, she branches out on her own, and with the help of a love-struck player she calls Mr. X (Michael Cera, playing a thinly-veiled version of Tobey Maguire), she becomes the gatekeeper of the most exclusive backroom game in L.A.
Things turn sour with Mr. X though, and Molly is forced to pack up her chips and move to New York, where all manner of rich socialites and Russian mobsters are ready to get in on the action. Soon she's running what one of her employees calls "the world's most exclusive, decadent man cave," and making more money than she knows what to do with — aside from supporting her fancy new drug habit, of course. The Feds inevitably come knocking, and the only person who can save her from a stint in the slammer is Charlie Jaffey (Idris Elba), a hotshot lawyer with a penchant for Arthur Miller.
Molly's Game: Jessica Chastain's performance alone is worth the price of admission.
Sorkin has clearly learned a lot from watching A-list directors like David Fincher and Danny Boyle tackle his material, and the first half of Molly's Game is a well-plotted, visually striking glimpse into an exclusive and glamorous subculture.
However, for a story about high-stakes gambling, by the end of the film, the stakes for Molly herself feel surprisingly low. The third act abandons the sense of urgency established in the poker scenes and instead tries to shoehorn in a family drama subplot that feels clumsy at best and cringe-worthy at worst. By the time Molly's sentencing hearing rolls around, even she seems to feel ambivalent about whether or not she goes to prison.
Molly's Game is not a film that will tug at your heartstrings (in fact Molly seems completely devoid of any romantic desires whatsoever), nor will it keep you on the edge of your seat, but Chastain's performance alone is worth the price of admission. For a first-time director, Sorkin has done an admirable job of turning his own "people talking in rooms" formula into an entertaining, albeit slightly uneven, piece of cinema.
Watch the official Trailer for Molly's Game below.
[videos file="https://www.youtube.com/watch?v=gCqgAzETJso" width="520″ height="392″][/videos]
About the film reviewer, writer of this article: Shane Murphy is a writer and comedian from Toronto, Canada.