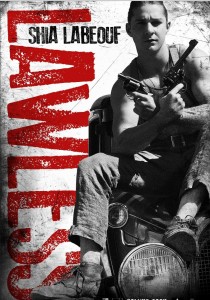 At the ripe old age of 26, LA-native Shia LaBeouf has been working in Hollywood since he was 9 years old, a former child actor raised by a single mother, he had successfully navigated the Disney star-making machine, made a couple of well-regarded indie films, and then starred in a couple of major box office hits.
So what's the guy going to do now?  LaBeouf has always been described as excitable and ambitious. Even at the age of 11, when he landed the popular Disney Channel TV series, EVEN STEVENS, he was the scene stealer in a talented ensemble cast.  Not content to sit back on his Disney cash machine, he worked with EVEN STEVENS director, Paul Hoen, to co-star as a mentally challenged teen in the teledrama TRU CONFESSIONS. His hard work earned him a Daytime Emmy.
Diversifying from the squeaky clean wonderful world of Disney, LaBeouf starred in THE BATTLE OF SHAKER HEIGHTS – an indie film project backed by Ben Affleck and Matt Damon's Project Greenlight indie film fund.
Key to LaBeouf's future success was a role in the 2003 Dreamworks picture HOLES.  His work opposite heavyweights like Sigourney Weaver and Jon Voight caught the eye of Steven Spielberg who would later recommend LaBeouf for DISTURBIA and, of course, INDIANA JONES AND THE KINDGOM OF THE CRYSTAL SKULLS.
To show he had acting chops, LaBeouf went after the lead role in the indie film A GUIDE TO RECOGNIZING YOUR SAINTS in which he portrayed an Italian-American teen.  Writer/director Dito Montiel first passed on casting a non-Italian Disney kid, but it was LaBeouf's determination to nail the part of an Astoria kid growing up in the 1970s that won him the part.  The film, which also co-starred an unknown Channing Tatum, won the Special Jury Prize at Sundance in 2006.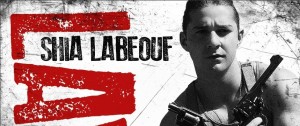 In 2007, what would be LaBeouf's breakout movie role was the surprise hit DISTURBIA, arguably a remake of Hitchcock's REAR WINDOW.  Noirish and smartly updated for a new generation, DISTURBIA won numerous awards – including  a number of Teen Choice Awards.  The little boy Shia had become a teen hearthrob.
By the time LaBeouf was starring in TRANSFORMERS, the sci-fi summer popcorn movies based on Hasbro toys, he seemed to have exhausted the critical acclaim he had built up in his career.  Few critics had praise for Michael Bay's successful but forgetable trilogy, and even LaBeouf began to distance himself in press junkets for the movies. Said LaBeouf on the second TRANSFORMERS movie, "There are a lot of people that liked the second one, but I hated it. I just didn't enjoy it. I thought we missed the mark."
The press soon noticed that LaBeouf was pretty blunt-speaking with little regard for self-editing.  He was fairly open about his fling with his TRANSFORMERS co-star Megan Fox.  And he was eager to analyze what he thought worked and didn't in his films.
Finally in 2008, LaBeouf got to work with his idol, Steven Spielberg, in INDIANA JONES AND THE KINGDOM OF THE CRYSTAL SKULL.  Though it was a box office hit, the press again had a field day with LaBeouf  as he was less than satisfied with the end result.  He said, "I feel like I dropped the ball on the legacy that people loved and cherished. You can blame it on the writer and you can blame it on (director) Steven (Spielberg). But the actor's job is to make it come alive and make it work, and I couldn't do it."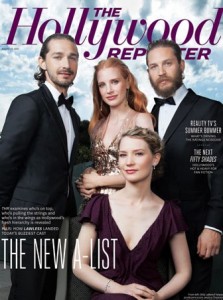 Co-star Harrison Ford rebuked Shia, saying "I think he was a [bleeping] idiot. As an actor, I think it's my obligation to support the film without making a complete ass of myself."
And recently, LaBeouf claimed his honest opinions about INDIANA JONES led to his split with Spielberg. LaBeouf recalled, "He told me there's a time to be a human being and have an opinion, and there's a time to sell cars."
That must have hit an idealistic nerve, because LaBeouf has now sworn off big budget studio projects.  His first warning shot came early this year when he did a frontal nude scene for an indie music video, for Icelandic composer, Sigur Ros.  LaBeouf, who previously acknowledged that he's no Adonis, bravely performed to the shock of his fans and to the clucking of the bitchy who snickered about his shortcomings.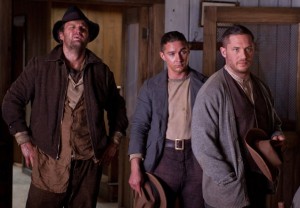 Releasing August 29 is indie film LAWLESS which stars LaBeouf, Guy Pearce (another actor who walked away from big studio fame after he turned down BATMAN BEGINS) and Tom Hardy – who's had his share of brave British indie roles. The R-rate film is a period piece set during the Depression and directed by John Hillcoat (THE ROAD).
Early in August, LaBeouf announced he was going to have an explicit sex scene (or two) in his next project, an indie film by Lars Von Trier's, tentatively entitled THE NYMPHOMANIAC.  Ironically, that same weekend, LaBeouf appeared on the cover of a Hollywood Reporter Magazine feature entitled, "The New A-List."  LaBeouf noted that he wanted to work with Von Tiers because he wanted to be scared and challenged — which sounded like another dig at the predictable and formulaic nature of big studio projects. It's quite a career shift for a young man who made his fortune doing family-friendly entertainment in the Disney and Spielberg spheres.  The more cynical can correctly point out that after his multi-million dollar pay days for his blockbusters, LaBeouf can afford to do indie work for the rest of his life, but Hollywood is not often a place where an ambitious star can truly practice what he preaches without the requisite lip-service and schmoozing.  For LaBeouf, he's willing to bare all for his art – and that makes him one of the bravest and refreshing actors to come out of Hollywood today.
LAWLESS arrives in theaters on August 29. CLICK HERE to see for the official website for the film.