From the director of YOU'RE NEXT and featuring a standout, badass performance by Dan Stevens ("Downton Abbey"), comes THE GUEST: a tense, action-packed and unpredictable film like everything and nothing you've ever seen before. Empire Magazine called it "a demented action-horror hybrid of sci-fi conspiracy thriller and gore-fest", and Vanity Fair US said, "THE GUEST is big, it's bold, it's badass, full of flavor Hollywood wishes it could pour over its vanilla blockbusters."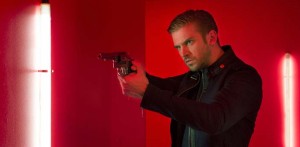 So what is it about? A soldier (Dan Stevens) introduces himself to the Peterson family, claiming to be a friend of their son who died in action. After being welcomed into their home, a series of accidental deaths seem to be connected to his presence.

A definite departure from that Matthew Crawley image, Stevens is not recycling anything close to the character he played on the hit ITV series (PBS if you watched it on American television). In Guest, we see, perhaps a deliciously sinister side of the Brit actor. Well, judging by the effective teaser trailer released by Picturehouse.

The film is directed by Adam Wingard, and written by: Simon Barrett

Stars: Dan Stevens, Maika Monroe, Leland Orser, Sheila Kelley, Brendan Meyer and Lance Reddick.

"The Guest," screened at South by Southwest, and is now included in August's Sundance NEXT festival.

The 99 minute thriller is set for U.S. release in September 2014.

CLICK HERE to see the teaser trailer.