We all love Jennifer Lawrence, Emma Watson, and Saoirse Ronan, but these talented young actresses aren't the only starlets bringing more to the game than just red carpet looks and sexy photo shoots. Brave New Hollywood is proud to present 5 hot  actresses who have moved with ease between film and television, and whose talents and screen presence far surpass any PR-infused fanfare.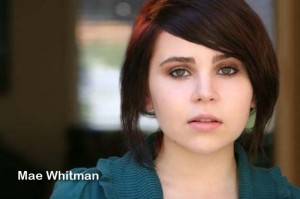 1.    Mae Whitman  
Still think Hermione was the only rising starlet who brought youthful grace and heartbreaking delicacy to her role as an angsty high schooler in last year's criminally unseen The Perks of Being Wallflower? Well, you're wrong! Her apple-cheeks obscured by a face full of harsh rebel make-up, and inherent sweetness hindered by wounded defensiveness, Mae gives an unself-conscience, all-in performance that is as buzzy as any delivered by the film's leads. Though for anyone who's seen the young woman's vibrant and bone-deep work on NBC's Parenthood week in and week out, this was hardly a surprise. True Whitman fans have been waiting for the wholesome all- American to claim her place in the spotlight ever since she made her debut way back in 1995 as George Clooney's precociously cute daughter in One Fine Day. Well folks, the wait is over!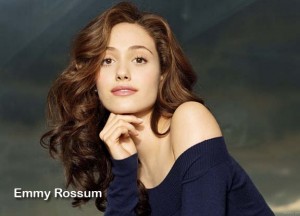 2.    Emmy Rossum
How can we possibly conduct a discussion about talented young actresses, especially ones burning up the small screen, and not include the supernaturally talented Emmy Rossum. The gorgeous brunette showed early promise, not to mention heavenly pipes, in Joel Schumacher's undeniably overblown, but also unfairly eviscerated screen adaptation of The Phantom of the Opera, but then seemed to fizzle in gratuitous disaster porn like The Day After Tomorrow. Who knew an hour-long drama on Showtime about a drunk and his neglected kids would silence all the doubters and show just how versatile and dedicated of an actress that this classically trained opera singer truly was? Part of a skilled ensemble that includes Oscar-nominees, William H. Macy, and Joan Cusack, Rossum has risen above them all to become the heart and soul of this show. Quentin Tarantino once told Rolling Stone that through her work on Alias, Jennifer Garner had proven herself to every movie casting director in Hollywood and should be henceforth exempt from auditioning. Well Quentin, watch a scene from Shameless and we challenge you not to say the same thing about Emmy.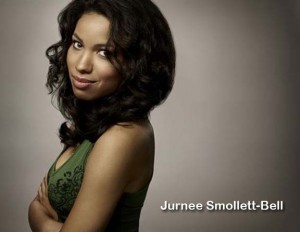 3.    Jurnee Smollett-Bell
Most children of the late 80's remember Smollett-Bell from Full House, where the cute tyke played Michelle Tanner's partner in crime. Then she blew audiences and critics away before she was even out of puberty with her layered, mature performance as the conflicted young protagonist, Eve, in Kasi Lemmon's magnificent Eve's Bayou. And naturally, as she aged into a poised, beautiful young woman, Jurnee continued to turn heads on the small screen, appearing in sentimental favorites like Friday Night Lights and Grey's Anatomy. Now, with her buzzy role in Tyler Perry's otherwise craptastic Temptation, and an upcoming arc this summer on the always- steamy True Blood, she's all grown up and ready to take center stage.
4.    Maika Monroe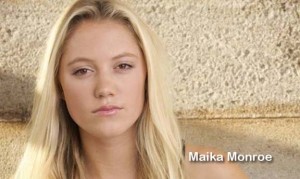 She might have the shortest resume on this list, but Monroe's got all of her bases covered. Cult favorite tv drama that featured ballsy performances but was canceled way too soon… check! (CBS's Rufus Sewell starring vehicle- Eleventh Hour). Scenery chewing film breakthrough amongst a decidedly A-list cast… check!  (Ramin Bahrani's devastating At Any Price, with Dennis Quaid and Zac Efron). In fact,
If you're looking for a smart, athletic, and decidedly unfussy screen beauty to ring in an All-American summer, look no further than the talented Ms. Maika Monroe.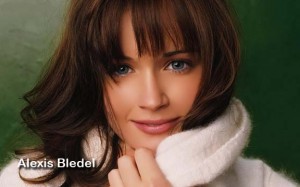 5.    Alexis Bledel
Most of us will always hold a special place in our hearts for Bledel's charmingly loquacious over-achiever Rory Gilmore, on the iconic and influential Gilmore Girls. Though after one glimpse of the stunning Jolie-ian beauty as of late it's becomes quite clear that our little girl is not in Stars Hollow anymore. With her perfectly symmetrical features and rich lapis eyes commanding near demonic possession of the camera lense, the onetime star of Tuck, Everlasting and Sin City, is back with a vengeance. First she popped up in full adult mode on Mad Men last season, and now she stars with two of the most universally praised young actresses working in film today: Saoirse Ronan, in the indie, Violet and Daisy, and Juno Temple, in this month's, The Brass Teapot. Watch out ladies, you've got a bombshell movie star to compete with!