Yet another handsome British actor is breaking away from the pack with a handful of high-profile movie roles (what do they put in the water in the acting schools in the U.K. or Australia, anyway?) James D'Arcy is another member of Brave New Hollywood's A-list roster of rising stars, an easy-on-the-eyes gent with genuine talent. You may recognize him from Madonna's directorial debut "W.E."in which he played King Edward VIII.
The 37-year-old is among the large cast of the polarizing Cloud Atlas, onscreen now. He joins Jim Broadbent, Halle Berry, Hugh Grant, Tom Hanks, Susan Sarandon, Jim Sturgess and quite a few others in playing multiple roles in this centuries-spanning romantic drama.
Next up: a plum role in Hitchcock, the buzzy biopic chronicling the relationship between Alfred Hitchcock and his wife Alma Reville during the period of time the legendary director filmed Psycho. Oscar winners Anthony Hopkins and Helen Mirren take on the title roles, while D'Arcy plays Anthony Perkins to perfection opposite Scarlett Johansson as Janet Leigh.
The Guardian called the film "clever and witty" with a special mention for how D'Arcy "almost eerily [resembles]" Perkins. The Los Angeles Times praised his "twitchy" impersonation and notes Hitchcock, "with its deep, abiding movie love and lore, plays as a can't-miss festival crowd-pleaser."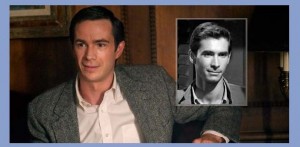 On the red carpet at the AFI Fest in Hollywood last week, D'Arcy told BNH that he attributed his performance to "sheer nerves" from having to work opposite two formidable acting legends. That kind of self-deprecation makes him even more charming, but we would venture to guess D'Arcy's own prodigious talent had something to do with it, too.
CLICK HERE for a YouTube clip of D'Arcy swarmed with autograph seekers at the Hitchcock premiere.