Posted on 12. Dec, 2011 by Ben Scuglia in Movies, Now U Know
Can't Madonna catch a break? All right, it might be asking a bit too much to appeal for sympathy for the iconic, mega-rich singer. But the media does gleefully go after Madonna with knives sharpened whenever she works in Hollywood in any capacity. Her latest project, the historical romance "W.E.," is no exception. Did it ever stand a chance?
See the official trailer for "W.E." HERE.
The film stars Andrea Riseborough as Walis Simpson, the divorced American socialite for whom Prince Edward abdicated the throne to marry, amid great scandal, in 1937. James D'Arcy plays Edward in the film, who was also portrayed by Guy Pearce in the Oscar-winning "The King's Speech" last year. Eve Best had a cameo as Simpson in that film.
In the script by Madonna and her longtime collaborator Alek Keshishian, the Wallis Simpson-Prince Edward scandal runs parallel to the modern-day story of a woman—played by Abbie Cornish—whose research uncovers hidden details about the tumultuous affair that resonate with her own life.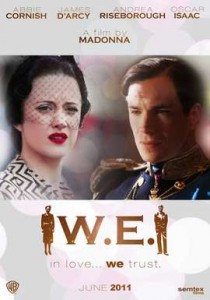 The film received mixed notices following its premiere at the Venice International Film Festival. "Well, maybe this won't be the movie to turn around Madonna's faltering movie career," wrote Steve Pond for Reuters.
The blogosphere has taken note of a particularly brutal review by Xan Brooks in "The Guardian." "Whatever crimes committed by Wallis Simpson—marrying a king, sparking a constitutional crisis, fraternizing with Nazis—it's doubtful that she deserves the treatment meted out to her [by] Madonna," he wrote.
"A lot of people will loathe it, simply because it's been made by Madonna," writes Baz Bamigboye for "The Daily Mail.""But if they were to watch it with no knowledge of who directed, they would be pleasantly surprised. They might even find it enjoyable, although the odd moment may have them wondering if Madge has committed treason."
"Whatever your feelings about Ms. Ciccone, it's impossible to refute that her film brings to the screen one of the most compelling love stories in history."
The "Telegraph" quotes an interview Madonna gave in May in which she defends Simpson. "People have accused Wallis of all kinds of things. They've said that she put a spell on Edward. They've said that she was a hermaphrodite and that he was gay," she notes. "They've said they were Nazi sympathizers. It's just the usual lynch-mob mentality that descends upon somebody who has something that lots of other people don't have."
"W.E." was picked up for distribution in the U.S. by The Weinstein Company. It will have a brief, Oscar-qualifying run in December before going wide on February 3, 2012.
CLICK HERE for the movie's official website.