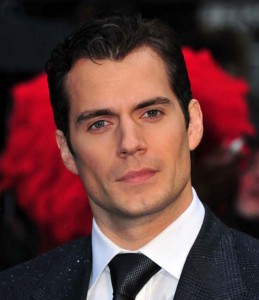 Thanks to the success of the Superman reboot, British actor Henry Cavill is fast becoming a household name and face.  The handsome, square-jawed 30 year old actor actually hails from The Channel Islands which are located in the English Channel just north of France.
Cavill has had an unusual career trajectory.  His filmography is not loaded with independent film like his fellow Brits. Very early in his career, Cavill demonstrated that he could easily do an American accent and was quick to transform himself physically for the role. He was in the dud HELLRAISER: HELLWORLD, had small parts in STARDUST and TRISTAN & ISOLDE before starring in the horror fave, BLOOD CREEK.  His resemblance to a young Laurence Olivier didn't hurt him when he next co-starred with Jonathan Rhys-Meyers in the successful TV series, THE TUDORS.  That exposure led Cavill to star in 3 major Hollywood releases, the action movie COLD LIGHT OF DAY, the battle of the Greek gods in IMMORTALS and ultimately in MAN OF STEEL.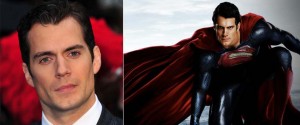 Along the way, he had been a contender for Batman but lost to Christian Bale, up for James Bond (which went to Daniel Craig) and had also been a contender for Bryan Singer's SUPERMAN RETURNS fortunately losing out to Brandon Routh in what was a poorly received movie.
THE TUDORS demonstrated to Hollywood that Cavill was more than a handsome face.  He played the key role of Charles Brandon from age 17 to his death at the age of 61 – quite an acting challenge to physically portray the subtleties of age over a 4 year TV series.
Now if Cavill followed a typical actor's playbook, after MAN OF STEEL, one might expect him to run to indie film to show off his acting chops. That's what Bale has done. And even past Supermen like Christopher Reeve and Brandon Routh had made a point of distancing themselves from typecasting.  But so far, Cavill has openly talked about other big iconic roles like James Bond.  His next movie is the international production THE GREAT WALL where Cavill will star opposite China's biggest actress Ziyi Zhang (CROUCHING TIGER, HERO).
With a MAN OF STEEL sequel already greenlit and a JUSTICE LEAGUE movie in the works, Cavill is the newest A-lister with a career (pardon the Superman reference) going up, up, and away!