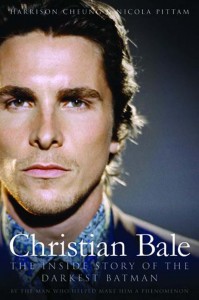 This month, a revealing new book promises to peek under the mask of Batman, and its enigmatic star, Christian Bale.
Christian Bale: The Inside Story of the Darkest Batman, by author Harrison Cheung, is a rare and personal look into the early years and the rise of British actor (Bale) whose real persona has often been as unpredictable as his choice in roles and the extreme physical transformation he will take on for each film.
As an ex publicist and an aide to Bale, Harrison shares over 10 years worth of insight since he was in the center of the then up-and-coming actor's professional and personal life.
In the early days of the internet, Harrison's trail blazing approach to online publicity, and the encouragement of David Bale (Christian's father) allowed the young actor to form a refreshingly special bond with fans, filmmakers and creative minds of the time via cyberspace. Strangely enough, this strange experiment was a major success, considering its subject chose the most public career, acting, and then insisted on privacy, something he holds very dear till this day.
This controlled output of information allowed Bale and Co to start a high-tech dialogue with a generation of movie lovers, and through Bale's films ("Newsies," "Equilibrium," "American Psycho") the savvy partnership proved to be a triumph in virality, in a time where terms like "internet sensation" or "online buzz" were in such experimental phases, if not completely foreign.
As its result, Christian Bale became one of the most popular topics on the internet. He then went on to become the hippest Batman, soon to be concluded as a massively successful film trilogy by director Christopher Nolan when "The Dark Knight Rises" hits theatres on July 20, 2012. Bale won an Oscar for his portrayal of a fallen prize fighter in David O. Russell's "The Fighter" (2010).
This intimate and revealing biography of Christian Bale is full of details few people know about Hollywood's most-lauded Batman, and how a child actor – by harnessing his fans on the Internet- became the star he is today.
With a great amount of exposé, as biographies should, Cheung's book sheds light on this mysterious talent, while giving readers a dose of the 90s zeitgeist with a trip down cinema history, delivering to readers a sense of discovery.
CLICK HERE for the book's website.
CLICK HERE for "The Dark Knight Rises" movie trailer.