Posted on 17. Feb, 2012 by Henrick Vartanian in Videos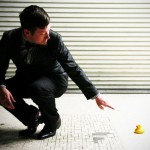 Check out "Busy," the stylish music video directed by TJ Daly using stills by photographer David B. Arenas (both people we immediately like based on this video alone), featuring the equally funky indie pop star Tim Permanent who was featured on Music Connection's Hot 100 Unsigned Artists of 2011.
"Busy" the first single from Tim Permanent's latest EP "Resident," is a clever and humorous look into the singer, songwriter's overly stimulated lifestyle.
"Life inspires me to write songs," Tim says. "My intention is to have the listener feel hopeful and inspired the way that I am."
CLICK HERE for Tim Permanent's official website.