American independent film director, writer, actor and novelist, John Sayles, talks about receiving the Sierra Spirit Award at this year's Mammoth Lakes Film Festival, in this video, shot in Mammoth Lakes, California.
In this exclusive interview with Brave New Hollywood, the veteran director known for his independent films such as Lone Star (1996), Limbo (1999), City of Hope (1991), and Passion Fish (1992), talks candidly about his experience making one of his earliest films, Baby It's You (1983) with studio financing and restrictions, while discussing the importance of film festivals to filmmakers of yesterday and today. Sayles also touched on improvements in today's equipment and the availability of cheaper gear, making filmmaking more accessible to more people.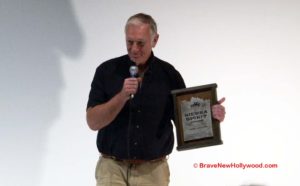 Additionally, during a Q&A with Mammoth Lakes Film Festival founder Shira Dubrovner, the filmmaker, along with his life and production partner, Maggie Renzi, and actor, friend Vincent Spano revisited the making of the 1983 movie Baby It's You, and talked openly about the film they were gerrn-lit to make and how it kept changing form and direction, under the strict scrutiny of the studio eye which demanded that the final product must blend in with the popular flavors of the day. This difficult relationship resulted in Sayles being barred from his film's editing sessions.
John Sayles' Baby It's You (1983) comedy, drama movie, starring Vincent Spano and Rosanna Arquette was screened at Mammoth Lakes Film Festival.
John Sayles went on to write and direct over 20 films, self-financing most of them, and receiving critical acclaim while a long line of actors and actresses lined up to work with the award winning director.
Mammoth Lakes Film Festival took place on May 24-27, 2017 in Mammoth Lakes, California where 74 films were screened.