Before We Go – film review
NYC – night. A boy and girl meet under unlikely circumstances, traipse around the city and try to figure out the meaning of their lives. Before We Go, Chris Evans' directorial debut has the recipe for a good old fashioned New York City romance but instead leaves us feeling that nothing much really happens.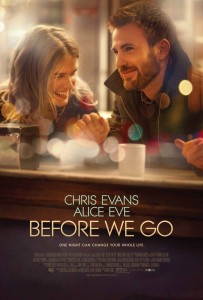 We meet  Nick Vaughn (Chris Evans), in Grand Central station, he is a jazz player playing a tune on his trumpet when he sees Brooke Dalton (Alice Eve) running to a catch a train that leaves without her. Apparently she just missed the last train out of New York, she is distraught and stranded, her purse has been stolen and her cell phone is broken. Nick tries to help her, but the cool and standoffish Brooke decides she can manage on her own and goes out into the night. Nick follows her and she reluctantly allows him to come along on her quest to get back to Boston. Brooke is harboring a secret that involves getting home before her husband. Nick  wants to avoid seeing his ex girlfriend at a party. They embark on an adventure looking for cash, cabs and a place to crash. Oh that's right Nick isn't from NYC either, but he has an audition in the morning with a very famous jazz musician.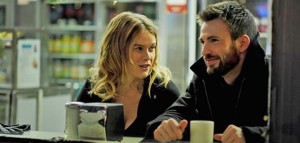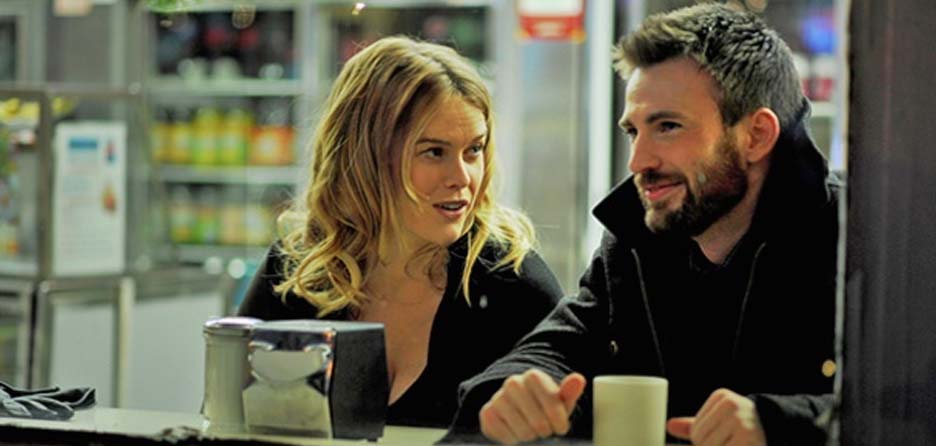 The script is packed with more platitudes then an episode of Oprah's Super Soul Sunday. Even a fanciful visit to a psychic ends up more like a therapy session. The shots of NYC are pretty however, with the exception of the famous location from Annie Hall, you know the one with the bench and the bridge, this movie could have been filmed anywhere.  Films usually require some suspension of belief, but it is a lot to ask the audience to believe that Nick Vaughn is savvy enough to go up against a gang of bag thieves, Spoiler alert: (he tracks down Brooke's purse), and that Brooke could walk the NYC streets for approximately 8 hours in her gorgeous chunky boots without hobbling.
As the night goes on, the two find a hotel room and it looks like the film is about to get interesting, (code for a hearty sex scene) but instead Nick and Brooke, clad in fluffy white robes, chat like good girlfriends and draw pictures. Alice Eve and Chris Evans do a solid job with the lines they are given. For die hard romantics the last scene is sweet, but "Before We Go" needed more passion, romance and grit to care about what happens to Nick and Brooke after the night ends.
Before We Go plays in select theaters now.
CLICK HERE to see the film's trailer.