Confirmed by Deadline, Alice Eve is on board for  Men in Black III in the role of a younger Emma Thompson Not that we are complaining, but didn't Emma Thompson want to take a break from acting?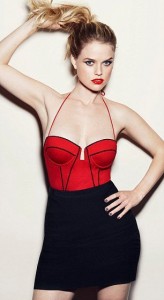 Anyway; the third installment of the franchise, finds the alien-fighting duo of Will Smith and Tommy Lee Jones in a time travellin' frenzy. Landing somewhere in 1969, Eve's character (Olivia) is hired by the agency on the basis of her looks but ends up as a great potential leader in 2012, after showcasing her strong and brainy ways.There is also talks about a young Agent K, circa 1969. That's Tommy Lee Jones' character which will be played by Josh Brolin.
Alice Eve is best known for her breakout role as Molly in
She's Out of My League,
starring opposite Jay Baruchel, and a supporting role in
Sex and the City 2
.
It has
been reported
(by Variety) that Eve is also in line as a potential Lois Lane for  the upcoming
Superman
.