This week, Thunderbird Entertainment released a first look at the trailer for Chasing Evel: The Robbie Knievel Story in ahead of its premiere at the Nashville Film Festival. The film was just nominated for Best Feature Documentary at Edmonton's NorthWestFest, where it will have its Canadian premiere on May 12th. The documentary is based on the life and career of Evel Knievel's son, Robbie who was the most celebrated daredevil in the 80s and 90s.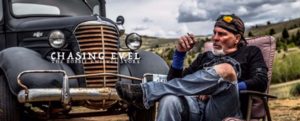 Robbie Knievel's jumping career significantly differs from his father's. Robbie, until 2009, used high-performance Honda CR500 motocross bikes that have been designed for jumping. His father, Evel made most of his record breaking jumps on a Harley-Davidson XR-750 motorcycle. Note that the XR-750 is quite heavier, and a less nimble motorcycle compared to CR500. That's because Honda is a motocross bike whereas the Harley is a flat-track racing motorcycle.
Robbie has made and often replicated Evel's jumps (including Evel's 1967 Caesars Palace crash) with the exception of two of his father's major accomplishments: a Harley-Davidson XR-750 jump and the Snake River Canyon jump using the X-2 Skycycle. Although never attempted, Robbie stated that he would use a XR-750 to clear a record-breaking 16 buses, three more buses than his father attempted at Wembley Stadium in 1975 (the current record for jumping a Harley-Davidson XR-750 is 15 buses, currently held by Bubba Blackwell). Additionally, Robbie stated that he would attempt to re-create his father's 1974 failed rocket jump over the Snake River Canyon near Twin Falls, Idaho.
Even with major TV broadcast events, merchandising deals, world records, fame and fortune, Robbie has been overshadowed by his famous father's legacy. Now, in his 50s he wants vindication in the form of a comeback, by jumping ramps and reinstating his unique place in the world of the thrill seeking sport.
Chasing Evel is directed by Jesse James Miller, and provides exclusive access, never before seen footage, and insight from the entire Knievel family. The film had its world premiere at the Big Sky Documentary Film Festival in February.
Thunderbird will be distributing Chasing Evel: The Robbie Knievel Story worldwide, with official premiere dates to follow.  See the first official trailer below.