Armie Hammer, in an exclusive Feb. 4th interview with AIR MAIL (the self-proclaimed webzine "for worldly cosmopolitans"), finally decided to tell his side of the story that has ended his career and made him persona non grata in Hollywood. What story? Back in 2021, he was discovered to have cheated on his wife with a number of women. But more sordidly, some of these women released voicemails and texts that revealed Hammer had a major BDSM fetish that included fantasies of cannibalism and violent sex! With every new leak, Hammer's career began to fall apart. He was fired from film projects and his agency – WME, dropped him.  A few months ago, there were reports that he now makes a living selling timeshare condos in the Cayman Islands.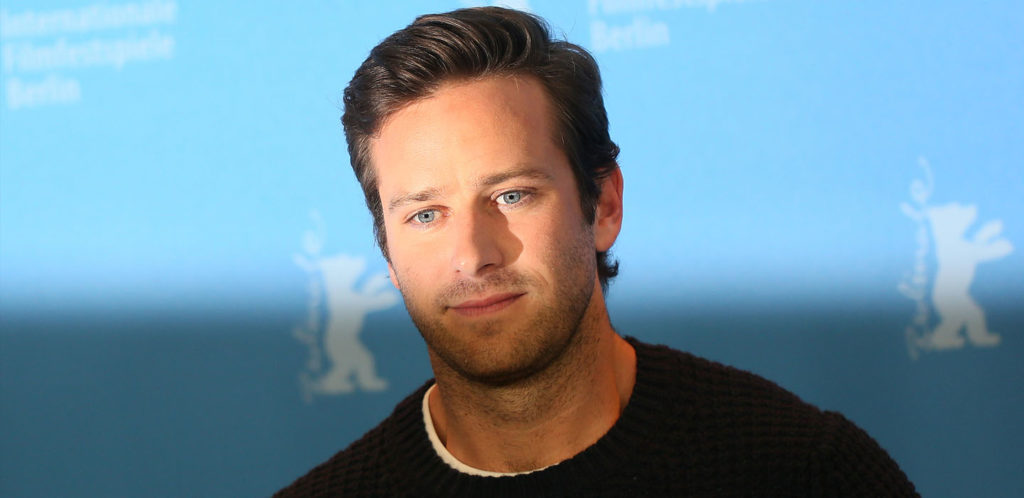 Hammer, 36, rose to fame playing both Winklevoss twin brother roles in THE SOCIAL NETWORK. The strikingly handsome 6'5" actor looked like a movie star – and Hollywood noticed. Being the grandson of Armand Hammer, the wealthy oil tycoon, added to Armie's Gary Cooper-like glamor. Hammer starred in the big budget THE LONE RANGER (2013) and THE MAN FROM UNCLE (2015) – both critically ravaged box office underperformers.  Hammer was then announced to be the next Batman for an aborted George Miller project, JUSTICE LEAGUE: MORTAL, but the press started to question Hollywood's casting choices, Why Armie?  The St. Petersburg Times sneered, "We guess being 6-foot-5 and having a weird name makes you qualified to play the Dark Knight."  To his critics, Hammer was bland and just privileged, unworthy of an A-list wannabe career loaded with bombs. Buzzfeed took aim at Hammer's white privilege with the article searingly entitled, "Ten Long Years of Trying to Make Armie Hammer Happen."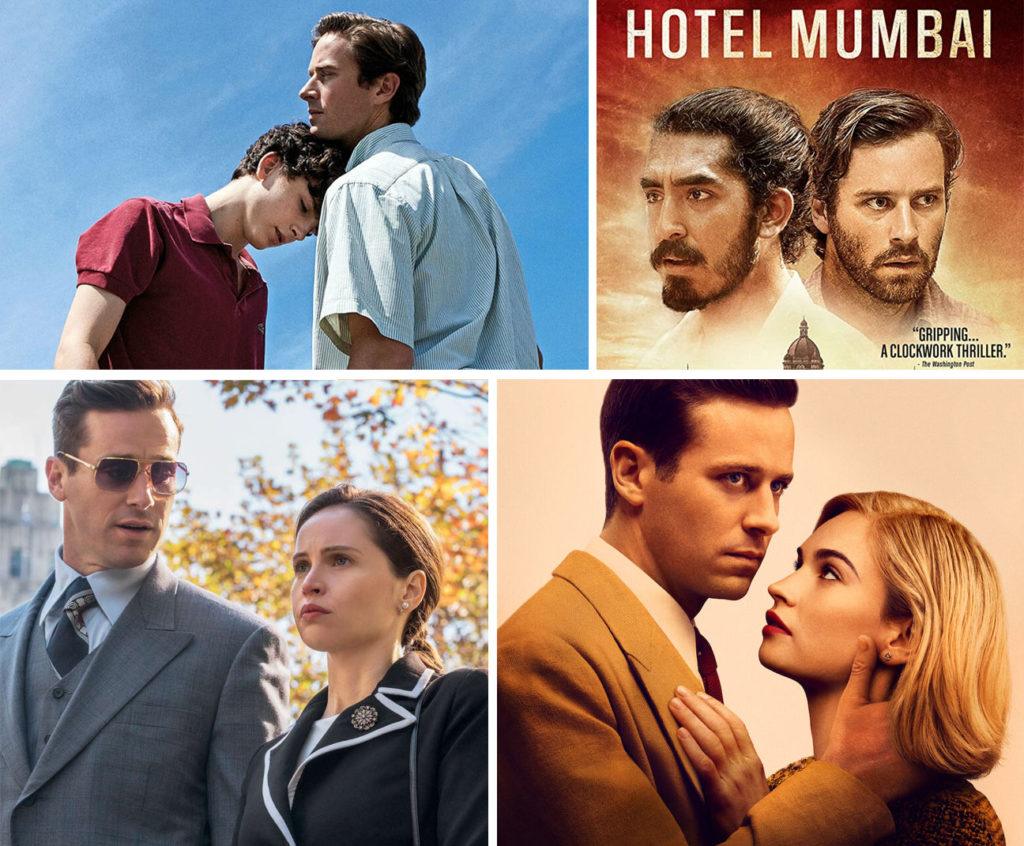 But Hammer proved he was more than just a pretty face. He began to rethink his film choices and surprised critics and audiences with his performance in the 2017 indie film CALL ME BY YOUR NAME which earned Hammer a Golden Globe nomination. While the film made Timothee Chalamet a star, Hammer resigned himself to the role of supporting actor, basking in the film's critical reception. (Interestingly, Shia LaBeouf was originally cast in Hammer's role but was dropped because of his arrest for public intoxication, disorderly conduct, and accusations of abuse by several women.)
By 2021, with all the bad news leaking about Hammer's fetishes, he was dropped from SHOTGUN WEDDING, THE OFFER (a mini-series about the making of THE GODFATHER), GASLIT (a mini-series about the Watergate scandal) and THE MINUTES, a Broadway play. For his last studio release, DEATH ON THE NILE (2022), Disney dropped Hammer from the trailer and all promotional materials. His career was over, so Hammer retreated to his family home in the Cayman Islands. Us Weekly reported that he owed $67,000 to American Express. As Hammer told AIR MAIL, "My financial status is I am not only broke; I am massively in debt."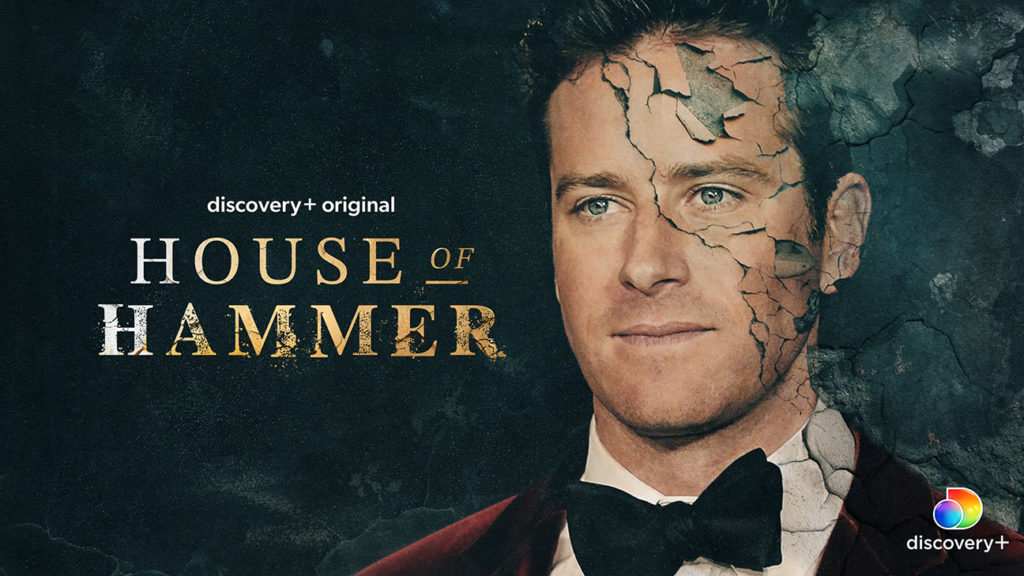 Adding insult to injury, a multi-part documentary, THE HOUSE OF HAMMER, came out in 2022. Produced by Hammer's aunt, Casey Hammer, the documentary exposed the Hammer family history of abuse and political intrigue going back generations. The message there? Her nephew was a bad man from a family of evil men. The documentary included interviews with a couple of the women accusing Hammer of abuse.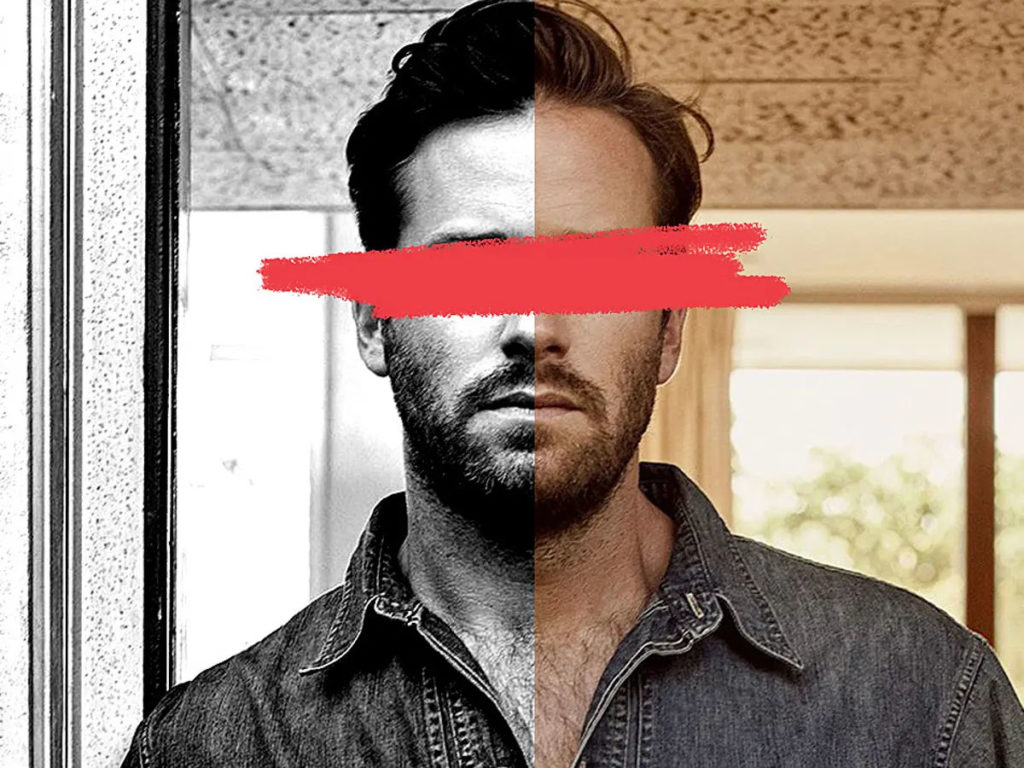 So now we come to the Hammer-friendly AIR MAIL interview where Hammer admits to being an asshole and puts some context around his fetishes, blaming abuse when he was a child which led to an unhealthy attitude toward women and sex. Hammer became suicidal. The feature also includes added details about one of his accusers who apparently admitted to pursuing a relationship with a married man. The accuser told a friend about her first sex encounters with Hammer, describing them as consensual.
The article goes on to defend Hammer, looking at possible alibis. Hammer hurt his pectoral muscle lifting weights, the article noted, so he couldn't have done some of the acts he has been accused of, citing medical experts that he would need four to six months of rehabilitation.
One of Hammer's accusers, AIR MAIL points out, has yet to sign an affidavit more than two years after her allegations. She is no longer represented by powerhouse lawyer, Gloria Allred. The article portrays her as a spurned stalker, following Hammer from film festivals to premieres after the end of their relationship.
The AIR MAIL even takes aim at Hammer's ex-wife, Elizabeth Chambers, framing her emails and communications with an accuser and Allred as tactics to win sole custody of their two children. (On Feb. 14, Chambers announced a deal with Investigation Discovery that she will be hosting a TV series about toxic and traumatic relationships.)
Overall, the well-researched AIR MAIL piece accomplishes what any good lawyer would do – doubting and questioning the credibility and motives of Hammer's accusers. Hammer does wonder what should fairly happen to someone like him, pointing to Robert Downey Jr. as an example of a career comeback. As he says in AIR MAIL, "What's missing in this cancel-culture, woke-mob business, the minute anyone does anything wrong, they're thrown away. There's no chance for rehabilitation. There's no chance for redemption. Someone makes a mistake, and we throw them away like a broken disposable camera."
Sadly for Hammer, he doesn't get to decide how or when rehabilitation or redemption comes. Is that fair? Ask his alleged victims.
Hollywood loves comeback stories, but are some accusations unforgivable? Look at how Kevin Spacey and Ezra Miller have fared – two very different studio reactions to scandal.  Presumably what's next in the publicist's playbook for Hammer should be a sincere televised interview (along the lines of the Hugh Grant scandal) but the AIR MAIL piece is a smart publicist's accomplishment, a detailed test of the waters to see if his fans and supporters are willing to believe his narrative.
The problem with a 'second chance' for actors implies that once a celebrity reaches a certain height or level of success, then they are untouchable. But there is no scale of what punishment fits which crime. The studios are inconsistent with the way they deal with scandal. Hammer has not been convicted. His fetishes are his bedroom fetishes, previously unknown until the leaks. And yet his career has been effectively killed off since no one will hire him. Compare Hammer to Kevin Spacey who has also not been convicted of any crime. Then compare Hammer and Spacey to Ezra Miller who has been convicted or to Robert Downey Jr. who has been convicted – but the studios were willing to give them a pass. Are Hammer's bedroom kinks better or worse than Will Smith's televised assault at the Oscars? Even Shia LaBeouf is working on an upcoming Francis Ford Coppola project!
With thousands of actors in Hollywood hoping for their big break, working actors should realize how lucky they are and that they jeopardize their own careers with their own actions. Can you imagine a lottery winner asking for another windfall if they've spent all their money?  Read between the lines and Hammer's plea for a second chance in the AIR MAIL piece is a clever work of victim-blaming. Yes, Hammer cheated on his wife, got kinky with his girlfriends, and ghosted some of his hook-ups but does he deserve to be canceled? The answer depends on how you vote with your dollars if you'll see a movie helmed by someone you dislike.  A studio has to decide whether box office will suffer if the actor can't be separated from their actions. Notice I say "box office" – ethics and morality don't figure in the studio calculus.  In the case of Ezra Miller, the upcoming star of an expensive superhero franchise movie, it seems like the WB is willing to take that chance. For Hammer, an expensive box office underperformer, not so much.
Recently, on Feb. 15, Hammer was due in court to face a restraining order requested by a woman who accused him of violent sex. Hammer's lawyer replied, "Armie does not know this person, has never heard of this person and was in Los Angeles on the day when the alleged incident supposedly occurred." Neither the accuser nor Hammer showed up at court, so the judge dismissed the case. Could this be the turning point for Hammer?
Read the AIR MAIL interview.