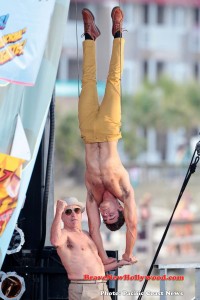 Zac Efron is shirtless. There's one reason. But additionally, here are two movie stars, with huge appeal, and two sets of very loyal fans having tons of fun shooting a film together. Let's not forget the two are packing guns too as we found out.
Can you smell a big box office success? Ex High School Musical heartthrob, Zac Efron, and movie icon Robert De Niro – this is a smart pairing.
Dirty Grandpa revolves around a grandson (Efron) who gets pulled into driving his grandfather (De Niro) down to Florida days before his wedding. The problem, grandpa is a bit of a perv, and convinces the youngin to steer the wheel towards Spring Break just before his big day.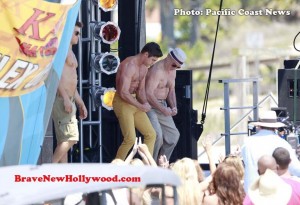 Filming was wrapped in February but a re-shoot was needed recently, in the beautiful Tybee Island (doubling for Miami) where the two actors engaged in a flex-off in front of a cheering crowd.
Props to Robert De Niro (71) for being in such damn good shape. In fact, the actor dropped down and did one arm pushups next to the 27-year-old Efron while received big cheers from the extras and onlookers.
Later, a shirtless Zac Efron hung upside down, with the help of wires, positioning perfectly in for a hand-stand, on De Niro's arm. In true movie-camaraderie, the veteran actor was there to help the Efron into position, and back down, after the take.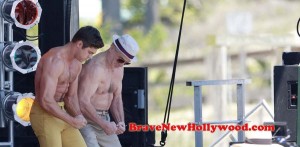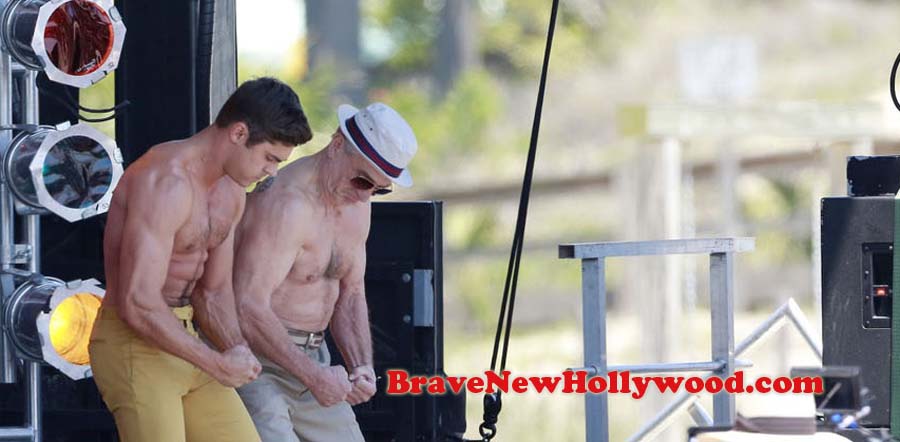 Judging from photos surfacing, the two are having a great time hanging out and making this film. Just the thought of this twosome is reason enough (OK, shirtless Zac Efron is up there too) for getting us very excited and looking forward to seeing what will surely make for a rowdy, hilarious ride.
Dirty Grandpa (distributed by Lionsgate) is headed for a February 2016 release.
TRIVIA: Did you know Zac Efron used a naked butt double on Dirty Grandpa? CLICK HERE to get a glimpse.