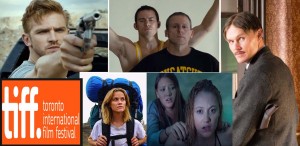 With three world-renowned film festivals going on almost simultaneously, this is easily one of a busiest times of year for the movie industry. In fact, barring a few holiday holdovers, nearly every prestige pic with its eyes on Oscar will roll out the red carpet for a glamorous Venice, Telluride, or Toronto premiere. But while all three festivals are brimming with diverse schedules and A-list talent, only one has predicted the future Best Picture Academy Award Winner the last four years in a row…
Yes folks, 2010's The Hurt Locker, 2011's The King's Speech, 2012's Argo, and 2013's 12 Years A Slave all debuted to stunning fanfare in the T.O., before going on to bring home the coveted statuette. Who knows if the same thing will happen this year? However one thing is certain, the 2014 TIFF promises another eleven incredible days of all things movies.
Coming Off Of Cannes
Perhaps no film arrives in Toronto with as much Cannes buzz as Bennett Miller's Foxcatcher. A look inside the notorious 1996 murder of Olympic Wrestling champ, Dave Schultz (Mark Ruffalo) by his patron, eccentric millionaire, John du Pont (Steve Carell) the movie won Miller the top directing prize at the Fest and saw it's three leads (including Channing Tatum as Dave's brother, Mark) immerge as acting frontrunners in this year's Oscar Race. Similarly, Olivier Assayas' Clouds of Sils Maria drew strong praise for its trio of stars (Juliette Binoche, Kristen Stewart, and Chloë Grace Moretz) who helped make the All About Eve-ish drama one of the most talked about at the Festival.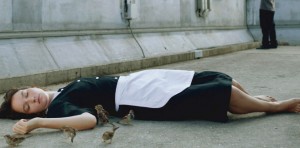 Not to be confused with Alejandro González Iñárritu's Birdman, Bird People, from French director, Pascale Ferran also looks to mimic its Cannes performance, where the Paris set romance, starring Josh Charles and Anaïs Demoustier was a critical and fan favorite… much like Tu dors Nicole from Quebecois filmmaker, Stéphane Lafleur.
And speaking of fan favorites… you don't get more crowd pleasing than It Follows, the thriller from The Myth Of The American Sleepover director, David Robert Mitchell, starring At Any Price's Maika Monroe as a university student literally tormented by nightmarish visions after a seemingly innocent sexual encounter—though the movie might just be the most artfully disguised allegory for college crabs ever created.
Around the world
Pascal Ferran isn't the only Frenchman traveling to Canada with a buzzy passion project in toe. Legendary auteur, Jean Luc Godard gets in on the 3D action with his experimental film, Good Bye To Language, while Francois Ozon's The New Girlfriend finds the former enfant terrible exploring love and cross dressing in typically unrepentant style. Otherwise, Haemoo, from South Korea's Shim sung-bo tackles the difficult but very real subject of illegal Chinese immigrants and their desperate and dangerous attempts to sneak into South Korea, while Amour Fou, a lush period piece from Austria's Jessica Hausner examines tragic love in Berlin, in the Romantic era, and Belgium's own Michaël R. Roskom's directs James Gandolfini in his last role – opposite Tom Hardy and Noomi Rapace – as an NYC good 'ol boy in author/screenwriter Dennis Lehane's The Drop.
Taking Chances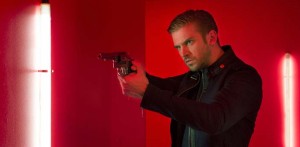 Of course, it wouldn't be the TIFF without a slew of controversial features that are sure to generate plenty of chatter, even while potentially dividing audiences in the meantime. Perennial lighting rod for controversy, James Franco, tackles his second Faulkner adaptation in as many years with The Sound and The Fury, but this time he's joined onscreen by familiar buds, Seth Rogen and Danny McBride, in addition to his gifted Child Of God leading man, Scott Haze. Jake Gyllenhaal lost 20 pounds to play a reporter investigating the seedy world of L.A. freelance crime journalism in Dan Gilroy's Nightcrawler,Justin Long is tortured in Kevin Smith's Tusk, and poor Maika Monroe must fight off one seriously off-kilter ex soldier played by Downton Abbey's Dan Stevens in, The Guest, from You're Next director, Adam Wingard.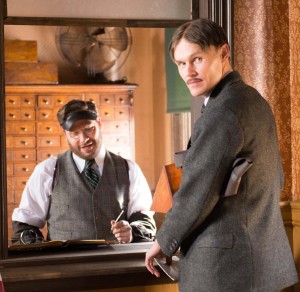 Denmark's own Lone Sherfig hopes to repeat the success of 2009's An Education (as opposed to her 2011 misfire, One Day), directing Natalie Dormer, Sam Claflin, and Douglas Booth in her latest, The Riot Club, while France's Mia Hansen-Løve explores the origins of 90's French House music with Greta Gerwig in Eden, and The U.S.'s Lynne Shelton follows up her intimate and engaging Touchy Feely, with the equally personal, Laggies, starring Keira Knightly, Sam Rockwell, and Chloë Grace Moretz.
Hot Tickets
Things get off to a pretty high profile start with opening film, The Judge, in which director, David Dobkin (The Change Up, Wedding Crashers) ventures outside of his usual milieu to direct Robert Downey Jr. as a lawyer investigating a small town judge (Robert Duvall) accused of murder. Writer/director, Theodore Melfi, managed to snag the elusive, incredible Bill Murray, not to mention box office powerhouse, Melissa McCarthy for his debut feature, St. Vincent and Jean-Marc Vallée follows up his Oscar-Winning 2013 film, Dallas Buyers Club with the Reese Witherspoon awards-baiting vehicle, Wild.
Eddie Redmayne and Felicity Jones play Mr. and Mrs. Stephen Hawking in James Marsh's The Theory of Everything, Tina Fey experiences first hand the joys of family dysfunction in Shawn Levy's star-studded adaptation of the Jonathan Tropper novel, This Is Where I Leave You, and indie queen Brit Marlingteams up with Hailee Steinfeld and Sam Worthington for the Civil War-set The Keeping Room. Amanda Seyfried and Naomi Watts join Ben Stiller in Noah Baumbach's While We're Young, and closing film, A Little Chaos, Alan Rickman's first directorial effort since 1997's The Winter Guest (starring Oscar Fave, Kate Winslet as a landscape architect at Versailles during the reign of King Louis XIV—played by Rickman) brings the festivities to an end.
CLICK HERE for TIFF 2014's complete line up.
Happy Filmfesting!