Posted on 19. Apr, 2011 by Ben Scuglia in Now U Know, Television
Cult-fave drama "Supernatural" hasn't officially been picked up for a seventh season, but its producers are nevertheless looking ahead to future storylines. In the meantime, hot on the heels of its much-buzzed-about "meta" episode, the show this Friday rolls out a story with a Western twist.
The meta episode sent hunky leading men Jensen Ackles and Jared Padalecki hurtling into an alternate universe where demons, angels and other supernatural spooks don't exist—and where their real-life "Supernatural" characters are played by actors named Jensen Ackles and Jared Padalecki who play characters on a TV show called "Supernatural." Got all that…?
Executive producer Bob Singer—for whom the "Supernatural" character Bobby Singer is named—told TVLine.com the cast and crew were "thrilled" and somewhat relieved the meta episode, titled "The French Mistake," was well-received.
"We'd certainly talked about how it could have been shooting ourselves in the foot," he recalled. "This is terrible to say because it sounds too self-congratulatory, but I really thought it was one of the best episodes of television I ever saw."
Singer praised Ben Edlund's script as well as direction by Charles Beeson. He singled out a scene where Ackles and Padalecki, playing their characters playing alternate-universe versions of themselves, had to try and "act" in order to fool the fake "Supernatural" cast and crew, some of whom were played by their real-life counterparts (follow that…?)
"I must have seen it 50 times now and I laugh every time," said Singer. "It fit into our overall storytelling, too, and impacted what's going on in the series in a meaningful way. I thought it succeeded on every level."
He notes Ackles has been angling to do a Western-themed episode for years, and finally gets his chance in the forthcoming episode. "It's very organic to our storytelling and steeped in the much earlier mythology that we told in season two, right up to our current mythology," describes Singer.
They are also currently exploring how to make that musical or animated episode work within their mythology. (Genre fans will recall a similar out-of-left-field idea undertaken in "Smile Time," the infamous puppet episode of vampire drama "Angel," and the musical episode of "Buffy, the Vampire Slayer" titled "Once More, with Feeling.")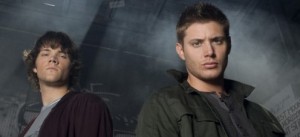 "Supernatural" airs Fridays at 9:00 p.m. on CW.
Trivia: To really mess with fans' minds, costar Misha Collins used his real-life Twitter account to post as the alternate-universe Misha Collins. As events in the episode unfolded, he tweeted in real life when his character tweeted on the show.
CLICK HERE for the full story at TVLine.com.