Posted on 29. Sep, 2011 by Annee Pfau in Blog Worthy, Now U Know
Ladders are steep and crowded in the pop music industry. Few stars have climbed to the tops of them through easy routes, and in no other creative medium does "paying your dues" gain more clear definition.
That's why it's been so much fun to watch Sade literally float to the top of hers.
The British artist heading the band that has carried her name for 25 years, carries that ethereal combination of talent and style that appear so effortless, you really wouldn't be surprised to see wings pop off her back. Even more so, you'd be happy about it. Now in her early 50's, the artist still appears a regal princess of her native Nigeria (she was born there, as Helen Folasade Adu, to a Nigerian father and an English mother), the confidence in her eyes never shining brighter—and giving you the first hint that those wings wouldn't necessarily be those of an angel.
That daring inner compass is a famous entity in the business where branding is king, and a band who waits years between albums shouldn't be, according to Billboard: "… one of the biggest success stories of the concert business this summer." But it's Adu's almost rebellious devotion to doing the right material, at the right time, that has kept the band hitting all the right notes since their debut disc, Diamond Life, in 1984. And…makes us all happy to wait (and pay) for more.
The band's following doesn't make sense to some—but let's face it, there's nothing like a Sade song. You know it when you hear it. They didn't invent smooth jazz, but they exploded it, jumping the genre beyond boundaries, and expanding the fan base into demographics it had never dreamed before. As the New York Times phrases it: "Sade's success paved the way, directly or indirectly, for all sorts of maligned genres, from smooth jazz and adult-contemporary soul to the more toothless side of trip-hop."
The success was given booster jets by Adu's own super-model elegance and fashion-savvy poise (she once designed for Spandau Ballet, and had her own London boutique for a few years), bringing a refreshing dunk of minimalist cool into a pop scene dominated by big hair, rubber bracelets and assaults of neon everything.
She brought that same game to this Summer's concert tour, which still has industry experts scooping their jaws off the floor with shock—and delight. The Soldier of Love World Tour, in support of the same album (released back in February!), was on track to rank in the top 10 grossing concert tours of Summer 2011, at the time of this article's creation. In fact, it stayed as the #2 concert on Billboard's Hot Tours 2011 chart, having made over $28.8 million in gross sales (in north America),  following GLEE LIVE ($40.8 million), and grossing more than double of Taylor Swift's concert tour ($12.6 million).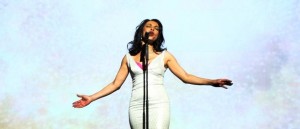 With sets and lighting designed by the incredible Sophie Muller, the band set out to give fans exactly what they wanted: an experience, in the words of The Baltimore Sun's Erik Maza:  "a privilege, an experience unlikely to be repeated, literally, for another ten years." Maza elaborates: "The crowd gave her a three-minute standing ovation…everyone left feeling they had just witnessed something to remember."
Something to remember…like, perhaps, a pop star with wings? Now, we wait to see where the flight will take us all next—but in case you haven't figured it out yet, be prepared for a wait. As Adu herself says via her website: "You can only grow as an artist as long as you allow yourself the time to grow as a person," Sade says. "We're all parents, our lives have all moved on. I couldn't have made Soldier of Love any time before now, and though it's been a long wait for the fans – and I am sorry about that – I'm incredibly proud of it."
So are we.