Focus World brings you director Stephen Daldry's Trash, a story of friendship and loyalty. Following and international dates of screenings at festivals, the film will be in theaters, on Demand and digital HD on October 9.
So, what is it about?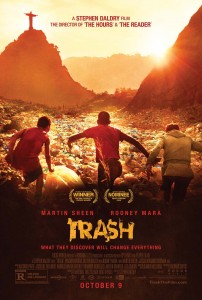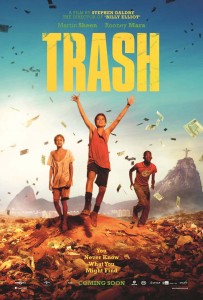 When three trash-picking boys from Rio's slums find a wallet among the daily debris of their local landfill, little do they imagine that their lives are about to change forever. But when the local police show up offering a handsome reward for the wallet's return, the boys, Rafael (RICKSON TÉVIS), Gardo (EDUARDO LUÍS) and Rato (GABRIEL WEINSTEIN) realize that what they've found must be important. With the help from two American missionaries – the disillusioned Father Julliard (MARTIN SHEEN) and his young assistant Olivia (ROONEY MARA) – the trio begins an extraordinary adventure as they discover that the wallet's owner José Angelo (WAGNER MOURA) was working to uncover political corruption and now they must try to hang onto the wallet while they evade the police, led by the dangerous Frederico (SELTON MELLO).
Trash is directed by STEPHEN DALDRY ("Billy Elliot," "The Hours," "The Reader") and written by RICHARD CURTIS based on the book by ANDY MULLIGAN.
Calling it Daldry's answer to Slumdog Millionaire, Variety believes that the infectious energy of its teen actors is one the film's biggest asset. Daldry cleverly weaves in excerpts from a direct-to-camera video the boys make, using the device to compact information in a less didactic manner, and to deepen the trio's palpable bond," says Variety.
It looks like the film was shelved for a good year, but it saw a release in Brazil last year. Now it seems to be ready for a bigger, international release, including the U.S. Since the word on the film is quite positive, perhaps with a little push, it can be a small fish in the big pond of award-worthy productions. But the tepid marketing, a year later, will not do.
An earlier poster showed the 3 boys from the front. Does seeing the faces of its three unknown stars make a difference? We have to wait and find out. See the trailer and both posters here.