Riding high on her Oscar nomination, it appears that Quvenzhane Wallis of Beasts of the Southern Wild is this year's break-out child actor in Hollywood. Yet while certainly precocious and likeable, not to mention starring in a Best Picture nominee, I'm not sure that all the hype is warranted.   I hate to say this, but I think praise for her natural if heavily coached performance (she's practically a toddler) in the so-indie-it-didn't-need-structure-or-a-sensible-plot student film, is a bit overrated.
Tom Holland gives an astonishing breakthrough performance in Juan Antonio Bayona's, The Impossible.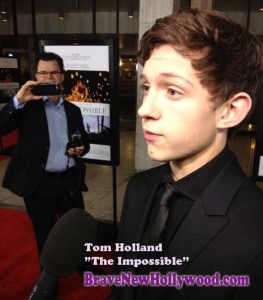 C'mon Academy, you really want to give a Best Actress nomination to a 6- year-old?  Why don't we start giving it to animals next? They are as much of a blank slate mentally- able to do exactly what the director says if trained properly.  I don't want to pick on this young girl, as I did find her performance charming, it's just that I think her nomination took away a spot from a much more deserving, more present-of-mind actress, like Rachel Weisz in Deep Blue Sea.
Well, there I go, off on a tangent attacking a poor little girl.  I reiterate, I hardly mean to criticize Quvenzhane, or child actors in general as clearly they've given some truly indelible performances in cinema history.  Elizabeth Taylor in National Velvet, Jody Foster in Taxi Driver, Haley Joel Osment in The Sixth Sense.  In fact, I think there was a young actor who is much more deserving of a nomination.  Tom Holland gives an astonishing breakthrough performance in Juan Antonio Bayona's, The Impossible.
The film is a first hand account of a family's harrowing ordeal while vacationing in Thailand at the time of the 2004 Indian Ocean Tsunami, and Tom Holland plays eldest son, Lucas.  Despite this being his first ever film role, the young British actor gives a heartbreakingly assured performance demonstrating a level of ease in front of the camera that belies his inexperience.
Not to mention the fact that he also holds his own with a ferocious Naomi Watts.  Permission for another mini tangent?–  Naomi Watts is so damn underrated!  Why is she not the Oscar frontrunner?   Her performance as a mortally wounded mother fighting for her family was not only unflinchingly honest and completely devoid of vanity, but also brutally physical.  And talk about criminally overlooked– Ewan McGregor, who plays the desperate husband to Watts and father of Holland, still has never even earned a single Oscar nomination!
Plus, the massive recreation of the initial tidal wave was as technologically brilliant as the wondrous Life of Pi, or the plane crash in Flight, yet this movie received no technical Oscar nominations as well!!!  What's up this year, academy? Why the hard–on for an experimental student film like Beasts but no love for grand Hollywood filmmaking magic, this time actually used to tell an intimate yet still universal story of human struggle.  I won't even get started on the lack of respect for Bayona and his James Cameron-ian feat of filmmaking.
We all know that a big budget film without a cohesive story or well- crafted performances usually ends up being a fiasco of special effects porn for fan boys (think all Nick Cage action movies post millennium, or the most recent Star Wars Trilogy – Good luck JJ Abrams though the only way to go is up!).  But The Impossible is not your average big budget film.  And Holland's role is not that of your average kid's in distress.
The rising star perfectly illuminates the struggle to remain fierce and brave in the face of his mother's withering condition.  Called upon to play a character in his finest hour, Holland, only 14 when filming began, does not make a false note and we believe every heightened moment of peril between him and his beloved mom.
Yet, appearing scared in a tank of water or crying on cue, to me, are perfect examples of how a child actor, if present in the moment can simply be manipulated by a director to portray emotions.  "Your doggy died", or "mommy's never coming home" might elicit the proper response from say, a 6-year-old Oscar nominee, but it can't help an actor to accurately portray a character's arc.
What makes Holland's performance so brilliant is that he shows us vividly how this boy not only reacts to his ordeal, but is also changed by it.  When we first meet his character, Lucas, he's your average privileged tween, annoyed by his two younger brothers, if slightly protective of them, and oblivious to the exclusive luxury of such an exotic vacation.  Testing his parents' boundaries, he's not insensitive or spoiled; he's merely your average young teen.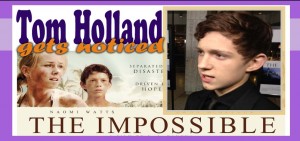 Yet after surviving the sudden horror of the Tsunami, stranded for hours amidst a sea of dangerous debris and dead bodies, with his ailing mother to care for, we see him begin to emerge as a man.  Through this young boy's eyes, we take in the horror of loss of innocence, but the hope that comes when people rise to the occasion.  Like I said, this is not a role for your average child actor.
For a young boy to make his camera debut with such a fully formed screen presence, not to mention an ability to highlight the nuances of character, is quite thrilling.   Holland has already won himself a bevy of critics' prizes around the world for his performance, but his secured spot in young hot Hollywood might be the ultimate reward.  Perhaps the rigors of his previous stint on the London stage in Billy Elliot, playing the title character's best friend, prepared Holland for the demands of his breakout role.
Though it unfortunetly didn't earn him a nomination like Quvenzhane, if his first role has anything to say, this kid's gonna be around for quite some time.  Possessing a precociousness and sensitivity way beyond his years, Mr. Holland calls to mind another successful actor from the Billy Elliot series who has transitioned to adult roles with aplomb, Jamie Bell.
If his next choice, a drama with the amazing Saoirse Ronan (perhaps the best young actress working today) set in War-torn England is any indication, I think it's safe to have high hopes!