Actor Jamie Bell is filling in big shoes these days by taking on the role of Tintin in the upcoming motion-capture, 3D film, directed by Steven Spielberg. The Adventures of Tintin: The Secret of the Unicorn is a highly anticipated movie creating a big buzz all over the world, and with the collaborative names of  Steven Spielberg and Peter Jackson , it will surly capture the attention of the American moviegoers who might otherwise have not be too familiar with the internationally celebrated comic strip, created by Belgian artist Hergé.  And as Jamie Bell goes, we know he is not lacking anything in the talent department. But the actor was not easily on board for his biggest role yet.
In a recent interview with
ScreenCrave
Jamie admits to being a bit reluctant to do motion capture because he had no idea about the capabilities of the technology.  But the actor credits director
Robert Zemeckis
for leading the way in the field.
"I knew everything about Tintin. I was already a Tintinophile or Tintinologist. I was very into that so it was literally trying to understand the mechanics of the technology. You want me to stand in a gray room and act as though I'm in a sea plane in the middle of the ocean, in the middle of the Sahara desert with nothing around me that informs anything about this character's journey? Anything about anything, in the physical world? That's great because it just means that I can make it all up!" explained Bell now that he has started the work on Tintin.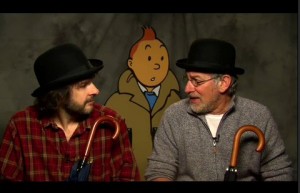 As for working with the legendary director on this film, Bell says "Steven Spielberg is such a household name, and so linked to childhood and fantasy for children and dreams, I think he will make motion capture something that we understand and appreciate."
This month, Jamie can be seen co-starring with Channing Tatum in the adventure, period-piece  "The Eagle" based on the novel The Eagle of the Ninth by Rosemary Sutcliff. After that, see Jamie in Jayne Eyre also starring
Michael Fassbender
and Judie Dench
The Adventures of Tintin: The Secret of the Unicorn will arrive in theaters on December 28, 2011.