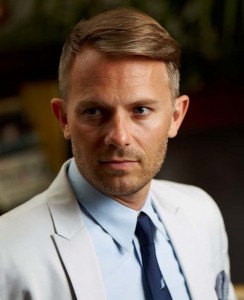 Rising star Craig Robert Young needs your help! His fans are pushing for the Brit hunk to play Richard Burton in the upcoming Lifetime biopic Liz & Dick opposite Lindsay Lohan as the inimitable Elizabeth Taylor.
You might have seen Young in the buzz-worthy web series Andy and Chaz Bugger Off to America.
CLICK HERE for Brave New Hollywood's coverage of the series.
We're about spotlighting hot, new talent and it's exciting when someone we've profiled begins to climbs the Hollywood ladder to stardom.
The 35-year-old moved to Hollywood a decade ago and has guest-starred on a wide variety of TV shows, including the sci-fi hits Lost, and Fringe, the soapy Melrose Place reboot, and even tween hits Zoey 101, Sabrina the Teenage Witch and 10 Things I Hate About You.
You can catch him Monday, April 30 guest-starring on the Hawaii Five-O crossover with NCIS: Los Angeles in his recurring role as a roguish bad guy.
A fansite is also pushing hard for the Liz & Dick filmmakers to consider Young.
What can you do to help? If you're on Twitter or Facebook, tweet or post to Lifetime that you want to see Craig Robert Young cast in the film. We'll have the links on our own Twitter and Facebook pages.
BNH already knew that Young admired Burton's career, and we asked if he would consider talking about how he would play such an iconic figure. He agreed to share his thoughts with us.
BNH: How did you become aware of this online push?
CRY: "Social media is a powerful thing. The morning they announced that Lindsay Lohan was cast as Liz and it was a go project, I mentioned on Twitter that to play Richard Burton would be like a dream come true for me. And the loyal fans of NCIS: LOS ANGELES and HAWAII  Five-0 picked up on it and one particular lady Muriel, who lives in France started a campaign and it just sort of took off." Chuckles, adding: "I mean I'm very honored and flattered. It would be interesting to put social media to the test and see what happens."
BNH: What do you know about the complicated Richard Burton, and how would you portray him in front of cameras?
CRY: "Well, I have a few things in common with the late Mr. Burton. My Mother is Welsh and was born in the same town as Richard, and like Richard I'm also the son of a coal-miner. I came from a very humble background. My Dad went through two miners strikes and my Mum had to pick potatoes in the fields in order to put food on the table. I'm the youngest of five. So, with not a lot of money there was a lot of mouths to feed. Richard was one of the hardest working actors that ever lived, a little unknown fact – to entertain people at parties, he would recite "Henry IV" and "V" backwards or in Welsh. A talent his old teacher had drilled into him. Richard had one of the most distinctive and recognizable voices. To play one of the greatest actors that ever lived, firstly I'd talk to my friend Michael Sheen, (another Welshy) and get some advice from him as he has played quite a few public figures (Tony Blair, David frost, Kenneth Williams). I would want to watch archival footage and see if I can get my hands on any of his old journals, try to get into the inner workings of who he was. It would start with getting his voice right. Then i'd work on his mannerisms. It's about capturing the essence of Burton, I wouldn't want to do an impression. Look at me talking as if I have the job. I shall come back down to earth now." Young concludes, laughing.
BNH: What are your thoughts on Lindsay Lohan as Liz?
CRY: Lindsay is a wonderful actress and with the right make-up and hair I'm sure she's going to do a fine job.
CLICK HERE to vote for Craig, as Richard Burton.
CLICK HERE for Lifetime Networks's Facebook Page.  CLICK HERE for Lifetime on Twitter.