Here is a cool featurette from the upcoming Ridley Scott film, The Martian introducing us to the cabin crew of the ship Hermes. Shot mainly from the point of view of astronaut Mark Watney (played by Matt Damon), we see inside of the spaceship about to embark on a mission to Mars, with its playful crew (and some not so willing) addressing the camera and having fun with Watney.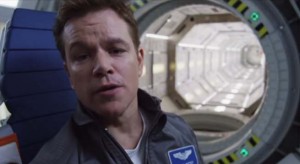 Directed by Ridley Scott, The Martian tells the story of wisecracking astronaut Mark Watney, a crew member on the third manned mission to Mars. After an epic dust storm threatens the crew's ascent, they are forced to abort the mission. Watney, separated from the rest of the team, is unintentionally abandoned, with the rest of the crew believing him to be dead. Now he's stranded millions of miles from the nearest human being, with no way to even signal Earth that he's alive—and even if he could get word out, his food would be gone years before a rescue mission could arrive. Chances are, though, he won't have time to starve to death. The damaged machinery, unforgiving environment, or plain old "human error" are much more likely to get him first. But Mark isn't ready to give up yet. Drawing on his MacGyver-esque ingenuity, mechanical engineering skills, and a relentless, dogged refusal to quit, he steadfastly confronts one seemingly insurmountable obstacle after the next.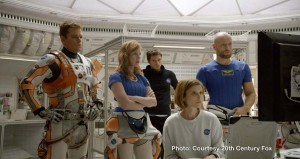 The production for The Martian took 72 days, starting in Budapest in November 2014.
It kept on in the hands of its speedy filmmaker, Scott, challenging the actors in difficult but fun atmosphere, according to actress Jessica Chastain who told EW that the scene with the sand storm which ultimately trap astronaut Watney was the most difficult one for her and that she was happy to be done with her scenes on Mars.
In the star-studded ensemble cast are Kristen Wiig, Jeff Daniels, Michael Peña, Sean Bean, Kate Mara, Chiwetel Ejiofor, and more.
About the author and the book:  Andy Weir's brilliant debut novel is a riveting story of survival against all odds set in space. An instant New York Times, USA Today, and indie bestseller, it is now published in thirty-five languages worldwide.
Andy Weir was first hired as a programmer for a national laboratory at age fifteen and has been working as a software engineer ever since. He is also a lifelong space nerd and a devoted hobbyist of subjects such as relativistic physics, orbital mechanics, and the history of manned spaceflight. The Martian is his first novel.
Broadway Books Movie Tie-In edition goes on sale August 18, 2015
The Martian (the movie) hits theaters on Oct. 02, 2015.