Little Men written by Ira Sachs, Mauricio Zacharias (directed by Sachs) is a film that stays with you, the viewer. We promise you that. Sachs, better known as one of the prominent voices in queer American cinema explores the more traditional American family with familiar elements from previous films such as Love is Strange (2014), and Keep the Lights On (2012).
Starring Greg Kinnear, Jennifer Ehle, Paulina García, and two young newcomers Theo Taplitz and Michael Barbieri, Little Men explores the new friendship between two boys in Brooklyn, both from different walks of lives, brought together by the death of a grandparent a small business property he has left behind. One family is the occupant of the property and the other owns it. As the parents engage in a feud over the value of the property, the two boys form a friendship that goes past battlefield lines drawn by their elders.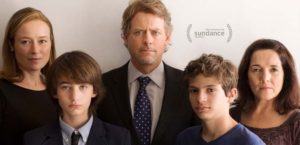 The boys' idealistic views on how things should be showcase kinder solutions, or at least better intentions, towards grown-up problems, instead of rushing the kettle of problems to boiling point.
The nuances are meticulously sprinkled throughout this landscape, avoiding loud, in-your-face expressions often seen in TV-like family dramas, showcasing real-life believability in this tale of friendship, adulthood and sticking together.
Ira Sachs has delicately pieced together a moving film with standout performances by Greg Kinnear and his young co-stars Theo Taplitz and Michael Barbieri.
As Brian Jardine (father of Jake Jardine) Greg Kinnear delivers an exceptional, sensitive, performance. Hey, trophy voters and nominators, will you acknowledge Mr. Kinnear during this year's awards season?
As the young stars, Little Men's Theo Taplitz (as Jake) and Michael Barbieri (as Tony) are a carefully picked, strong pairing, with fresh, noteworthy performances that keeps them unique but relatable too.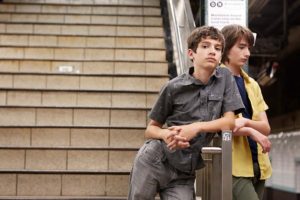 There are scenes in which Taplitz and Barbieri get to display their acting chops and they impress equally thanks to a filmmaker whose direction allows room for the actors to arrive to those emotional and character-evolving marks organically, their own way, and not limited to boxed-in technicalities. Sachs sees and treats them like adults. As a result the dialogue serves their actions and their actions serve the dialogue. It takes an attentive, unafraid filmmaker to see such traits and trust his less experienced young stars with the material.
Ira Sach's Little Men is a film where innocence and hope still show signs of life and in which its young observers view the world with clearer eyes and bigger hearts.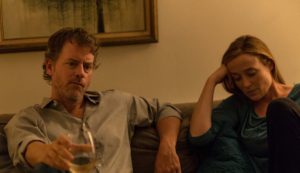 The backdrop of Brooklyn is not just the stamp of its artist but a necessity to this story, beyond visual. It is the energy and the framing chosen by Sachs and cinematographer Oscar Duran that give this film its American flavor and oxygen.  Together they create a safe-enough foundation for the viewer to feel a certain level of comfort and explore the world of its players even during tension.
The casting of this film is another major achievement in its storytelling. The older performers are so important in pushing this story forward, elevating tensions and becoming tangled in them, while its teenagers become the unlikely disrupters of the ensued conflict. It's a difficult and significant achievement by the filmmaker and his casting director, Avy Kaufman who have done a splendid job assembling such a beautiful, exciting group.
We urge indie film lovers and the voting members of awards to take notice of this beautifully structured, touching film and give it its deserved acknowledgment this year, and hopefully get more viewers to discover and enjoy the film as much as we did at Brave New Hollywood. To everyone else, we highly recommend this film and hope you rush to see it on the big screen and on VOD or on Demand
Little Men Opens in Los Angeles on August 12, 2016 and playing now in New York.