The Los Angeles Film Festival 2011 (LAFF) is underway. The city's preeminent celebration of cinema kicked off June 16 with black comedy Bernie starring Shirley MacLaine, Matthew McConaughey and Jack Black for director Richard Linklater. Dozens of screenings for a variety of feature films, shorts, documentaries and videos continue through this Sunday, June 26.
It's the second year LAFF has been housed in its Downtown L.A. locations ("I had to get my visa renewed to come down here," MacLaine joked during her opening night remarks.) Acclaimed director Guillermo Del Toro (Hellboy, Pan's Labyrinth) is serving as guest director. He's the producer of LAFF's closing-night selection, the haunted-house thriller Don't Be Afraid of the Dark starring Katie Holmes and Guy Pearce.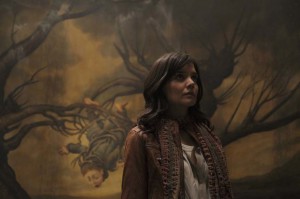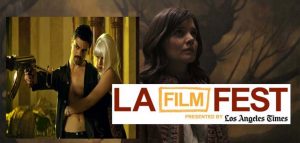 Buzzworthy films playing LAFF include Drive starring Ryan Gosling and Albert Brooks. Helmer Nicholas Winding Refn won Best Director at the Cannes Film Festival for this dark, violent action film which Indiewire (in a Cannes review) called "a hyperactive love letter to road rage… a total blast." Gosling's character "finally allows the actor to play the sort of tough guy role that fits his slick demeanor… Whether threatening to hammer a bullet into the brain of a two-bit thug or smashing another guy's skull with his foot, Gosling walks a fine line between extreme heroism and pure insanity."
Another talked-about title is Attack the Block directed by Joe Cornish. "The movie, authentically set in London, centers on a group of inner-city kids who are forced to defend their turf from an alien invasion," notes the Hollywood Reporter.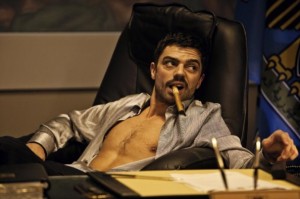 The Devil's Double from Lee Tamahori stars British heartthrob Dominic Cooper (Mamma Mia!) in an acclaimed dual role as Uday Hussein, son of Saddam Hussein, as well as Uday's double, Latif Yahia. "The film uses Yahia's story, which is partly fictionalized, to create a portrait of evil and cruelty and madness extremis," observes Hollywood-Elsewhere.com, noting that Cooper "gets the panic and the ferocity and the obstinacy of both characters."
CLICK HERE for the LAFF Film Guide.
The LAFF is produced by Film Independent. Sponsors include L.A. Live, Pechanga Resort & Casino, Virgin America and CBS 2/KCAL 9 News.