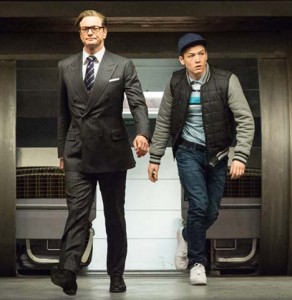 The new trailer for "Kingsman: The Secret Service," packs a punch, showcasing the very kick-ass, physical side of Colin Firth, and a fresh-faced new comer, Brit actor Taron Egerton.
With an impressive cast of cross-generational favorites, Samuel L. Jackson, Mark Strong, and Michael Caine, Kingsman looks like a fun time at the movies.
The British action, adventure, film adaptation is based on the original comic book "The Secret Service," by Dave Gibbons and Mark Millar. The screenplay for the film was written by Matthew Vaughn and Jane Goldman. Vaughn of the "X Men First Class" fame directs this film, in which a veteran secret agent recruits a young man (Egerton) for a life of service and rescuing the planet from very bad people.
Produced by Marv Films, Kingsman will be released on February 12, 2015 (United Kingdom), and February 13, 2015 (United States) by 20th Century Fox.
CLICK HERE for the film's official website.