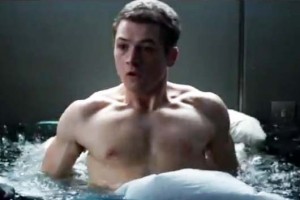 The new Kingsman: The Secret Service trailer packs a punch, showcasing a rare, physical side of Colin Firth – as in, the actor engages in serious ass-kicking.
The action-packed clips also features, newcomer Taron Egerton, playing a young thug and chosen by Firth for a new path in life.
Born in North Wales, Egerton is better known to British audience, as Dennis "Asbo" Severs, in The Smoke TV series (on Sky1).
The 24-year-old, RADA-trained actor made his debut in 2013 with a small role, in two episodes of Inspector Lewis, as Liam Jay.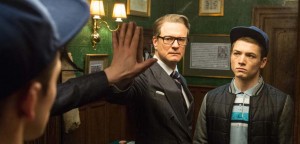 The new starring role in Kingsman will bring him to an international fame, in the action, adventure genre most audiences know and love.
Kingsman: The Secret Service is a British spy movie directed by Matthew Vaughn (X Men First Class). Based on the comic book, "The Secret Service" created by Dave Gibbons and Mark Millar, the screen adaptation stars Colin Firth, Taron Egerton, Samuel L. Jackson, Mark Strong, and Michael Caine.
A veteran secret agent (Firth) takes a young upstart under his wing as the recruit undergoes a grueling training and takes on world-rescuing assignments.
TRIVIA: In June 2013, it was reported that Leonardo DiCaprio was in talks to join the film as a villain. We now see that he is nowhere in the trailer, or in the credits.
Distributed by 20th Century Fox, the film will be released on February 12, 2015 (United Kingdom), and February 13, 2015 (United States).
CLICK HERE for the film's official website.