This week, IFC Midnight released a new clip from the gay porn, biography, drama King Cobra, featuring the fresh faced, rising star, Garrett Clayton as Sean Lockhart (or porn star Brent Corrigan) as he is known to his fans. This film scene titled "Neighbor" shows Lockhart/Corrigan meeting the neighbor next door, played by Rosemary Howard. And with this truth-telling seventeen year old, she might get clues to what she is digging for.
Written and directed by Justin Kelly (I Am Michael), the gay porn, true crime, drama starring James Franco , Christian Slater, Garrett Clayton (Hairspray Live!), and Keegan Allen (Pretty Little Liars), premiered at Tribeca Film Festival and has been called the first optimistic black comedy set in the world of gay porn production that's also extremely classy (by Screen Daily).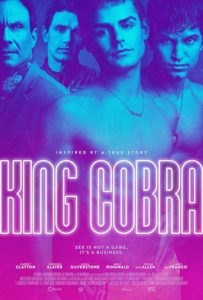 Sean Lockhart (Garrett Clayton), seventeen and boyishly handsome, dreams of fame and success even though he's broke and without direction. When he meets the seemingly conservative Stephen (Christian Slater), founder of Cobra Video, he starts to perform in gay porn under the moniker "Brent Corrigan," creating a slew of wildly successful videos during which he blossoms from a naïve young man into a confident sex symbol. When rival porn producers Joe (James Franco), a former youth pastor with a bad temper, and Harlow (Keegan Allen), a former military man, set their sights on stealing Sean from Stephen, an all-out porn turf war ensues, resulting in a shocking, gruesome murder in this bizarre, stranger than fiction, true story.
The movie has not disappointed in sleaze-factor, it seems, and has been dubbed the all male, gay answer to Boogie Nights.  Film critics may not be too crazy about it, judging by the ratings on Rotten Tomatoes, but with a hot cast, a scandalous story of danger and rebellion, King Cobra may be the LGBT themed cross over film with a wide appeal, whether critics like it or not.
Take a look at this scene, especially the very end, and see if you can be seduced into seeing King Cobra, now playing in limited release, in the United States.