Writer, director Noah Baumbach is on a roll, again, this time introducing us to two energetic females taking Manhattan with their own approach to life, success and making it in fast-paced, modern America. With the help of his Frances Ha leading lady, Greta Gerwig, and actress, Lola Kirke, best known for Gone Girl, and Amazon Studio series Mozart in The Jungle, here comes the spunky new trailer for Mistress America (official site). See the film's poster below.
Tracy (Lola Kirke) is a lonely college freshman in New York, having neither the exciting university experience nor the glamorous metropolitan lifestyle she envisioned. But when she is taken in by her soon-to-be stepsister, Brooke (Greta Gerwig) – a resident of Times Square and adventurous gal about town – she is rescued from her disappointment and seduced by Brooke's alluringly mad schemes.
This round with two films, one of which already released in March, by A24 Films, While We're Young, and later this summer comes Mistress America, released by Fox Searchlight, this filmmaker doesn't seem to leave his creative streak unanswered.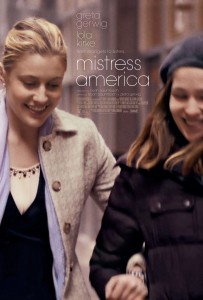 Ok, so his films draw comparisons to the works of Woody Allen, and if it's fair to do so, we will add that this is Greta Gerwig (who co-wrote the screenplay) channeling Diane Keaton as made popular in those earlier Allen films. But we'll stop there as Gerwig can definitely bring her own brand of acting and charm to the screen, for a newer generation of cinephiles to adore and draw from.
From the trailer, it looks like Baumbach is ready to dazzle us, keeping with the lively theme of ambitious young characters, taking on life and success in the big city, New York, of course.
The film co-stars  Michael Chernus, Heather Lind, Matthew Shear, Jasmine Cephas Jones, and musician/actor Dean Wareham (who co-scored the film's soundtrack with Britta Phillips, giving it a late 70s, early 80s disco-pop sound.
Mistress America arrives in U.S. theaters on August 14, 2015
[videos file="https://www.youtube.com/watch?v=6z8MCW16uZY" width="560″ height="315″][/videos]