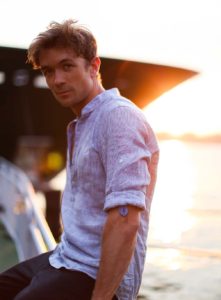 Last month we met with the British triple talent, Emrhys Cooper, here in Los Angeles, and walking out of the interview we knew it was one of the best times we had sitting down with an artist. Therefore, the final video we posted tends to be longer than the usual online clips produced for the attention span of today's modern viewers. We believe Emrhys shared a number of entertaining stories and valuable information which can be useful to newcomers into this business of show, his fans and others curious about the Performing Arts.
In this interview, he talks about the film that captured his imagination, what it means to go for the Hollywood dream, and the advantages of working on a big TV shows versus smaller indie films. He gives us a glimpse into his new role  in an exciting re-make of  Nosferatu in which he plays Thomas Hutter, opposite Joley Fisher, Doug Jones, and Sarah Carter, helmed by director David Lee Jones.
We hope you enjoy the shared tales and wisdom by this rising star and hopefully share this link with friends and supporters of films, TV, music, and dance.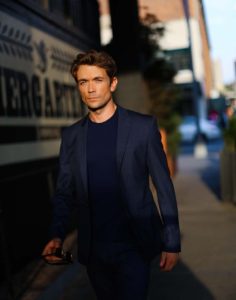 Emrhys Cooper is a British actor, singer and dancer, most recently seen as the lead male actor in the Emmy nominated Stylehaul Drama Series Vanity, which also stars Denise Richards and Karrueche Tran.
His resume of films include Mamma Mia (2008), Bright Young Things (2003), the award winning indie drama Till We Meet Again (2016) and the Sci-fi drama Altered Perception (2016). He will soon be seen in the upcoming drama series Relationship Status (2016) alongside Milo Ventimiglia, Emma Bell and Shawn Ashmore.
Emrhys made his professional stage debut in the national tour of Fame – the Musical before making his West End debut at 21 in the Queen musical We Will Rock You.
Emrhys was born in Devon, England. His mother is an artist and a former dancer. His father, is a teacher and founder of the UK's South Devon Rudolf Steiner School.
Emrhys soon took to the arts and started training in dance, singing and acting, and at age of 12, he was working professionally.  In addition, he earned a scholarship to The Central School of Ballet, where he studied from the ages of 16-18. He expanded his focus and attended the Laine Theatre Arts School to pursue a career in musical theatre where he graduated with honors.
As a dancer, he has worked with many of the biggest recording artists of our times; Madonna, Christina Aguilera, and the Pussycat Dolls to name a few. This branch of his talent brought Emrhys to TV shows such as X Factor, Americas Got Talent, and the MTV Music Awards (Europe).
As an actor, he has made appearances on British television, on hit soap opera Coronation Street, I'd Do Anything and 999.
In 2008, Emrhys Cooper moved to Los Angeles to continue his career and try his luck in making a mark in Hollywood.  The decision was fruitful as Cooper landed acting roles on big American TV shows such as Desperate Housewives, CSI:NY, Touch and Blackish. His biggest part on prime time TV so far has been playing MI6 spy Young Greer, on CBS's Person of Interest.
Emrhys is also an active participant is independent films such as Walk a Mile in My Pradas, Altered Perception, and more.
TRIVIA: In 2013, Cooper was cast as the lead role in the Bhutanese feature film Kushuthara – Pattern of Love, filmed in the Kingdom of Bhutan. This makes him the first ever Western actor to star in a Bhutanese film. For his work, Emrhys won the Outstanding Performance award from a lead actor in the IndieFest film festival.
Like a real celebrity, the kind who becomes a beacon for the people, causes and issues, Emrhys is a believer in humanitarian work and while shooting in Bhutan, he visited the Neyphug (Heyphug) Monastery & School for orphaned and underprivileged boys. The site had been severely hit by an earthquake. The charitable actor was so moved by this experience he created a short documentary and GoFundMe campaign to help restore the monastery to its original glory.
In his efforts to raise awareness, Emrhys shot a public service announcement after losing his song writing partner, Elaine Macaluso, to urethral cancer. He supports Urology Care Foundation, hoping that people get regular health check-ups and avoid complications and illnesses.
Emrhys Cooper is passionate about protecting the wildlife and creating a healthy planet with organizations such as World Wild Fund for Nature, and Greenpeace. He shares his home with 3 rescued cats and an African grey parrot.
During our sit-down chat in July, Brave New Hollywood had the pleasure of hearing from Emrhys directly about his life, career, and upcoming projects.  Watch the video to find out how he arrived in the United States and his advice on chasing a career in Hollywood, and if British actors have a better chance of booking roles and advancing in this incredibly competitive business.